Lin-Manuel Miranda's Childhood Letters From Summer Camp Will Make You LOL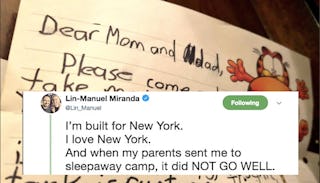 Image via Twitter/Lin-Manuel Miranda
His letters include grievances about the septic system and the 'morons' in his tent
It should come as no surprise that the creative genius behind Hamilton and In the Heights has a flair for drama. But the childhood letters Lin-Manuel Miranda shared on Twitter also get an A+ in hilarity and precociousness.
Basically, he was not a fan of sleepaway summer camp back in the day — and he let his parents know all about it.
Miranda is cooped up at his parents' house, recovering from an illness. In order to avoid going stir-crazy, he started going through some old relics from his childhood (as one does — because that's what your parents' homes are for). He shared several gems on Twitter — old report cards, poems, sweet photos.
But the best part — the absolute best part– of what he shared lies in the dramatic, forlorn letters he sent his mom and dad from summer camp. Try not to pee your pants laughing.
Naturally, a big city kid may not take well to the outdoorsy nature of summer camp. In a form he had to fill out, he was asked why he was attending summer camp. Miranda responded: "Because I spend all my spare time watching T.V."
At least he's honest.
The experience seems to be going as well as can be expected in the beginning.
And then things took a turn.
"Dear Family. Hi! Remember me? I'm the kid you ditched in the woods for a month!"
OMG. Dying. He even signed off with a sketch of a guy (presumably him) falling off a building. "Your son, Lin."
And now he's just cutting right to the chase: "Please come and take me back to New York, away from this hellhole. The electricity is malfunctioning, the septic tank is rupturing, the insect repellant isn't working, and the insects are biting."
I don't know about you, but I hear some solid material for a refrain in a musical ode to summer camp in this one here.
OH, THE DRAMA.
Aww. Poor guy. Please note the bottom right corner, where he ad-libbed on the Garfield stationary.
"How are you, I am IN HELL." Look, you don't get the results you want by beating around the bush, right? Right. "Yesterday I realized that my tent was full of morons."
Okay, I have tears in my eyes. I'm wheezing. I grew up in a working-class family in a working-class town, and the closest thing we ever had to sleepaway camp was eating popcorn in a tent in the backyard for an hour. Or watching Camp Nowhere with Jonathon Jackson and Christopher Lloyd.
Based on these letters (full disclosure: I am a theatre kid through and through and had a penchant for drama beginning in infancy), perhaps us non-camp kids got the better end of the deal.