Dads In A Group Text Go Full Fanboy When One Of Them Meets Lin-Manuel Miranda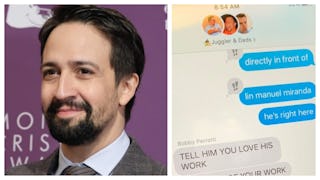 MAGE VIA BRYAN BEDDER/GETTY IMAGES FOR THE EUGENE O'NEILL THEATER CENTER/Twitter/Lin-Manuel Miranda
Your heart will grow ten sizes after reading this entire thread
Behold, the sweetest story ever. It involves Lin-Manuel Miranda (because if a story is viral and sweet, it almost should include Lin-Manuel Miranda) and a group of dads on a text message chain who are huge fans of his.
While riding on the bus with his son, Miranda was gently approached by the person sitting next to him, who showed him a group text message.
The man sitting next to Miranda let his crew know who he was sitting next to. His friend immediately responded with adorably excited feelings about it: "TELL HIM YOU LOVE HIS WORK. THANK YOU FOR MOANA. DAMN IT JAY SAY IT. YOUR FRIEND HAS A COUPLE OF CUTE KIDS THAT KNOW WHAT A HERO LOOKS LIKE AND A HERO IS A GIRL."
Fanboy-ing: engaged. Sobbing: commence.
There are two things that make this an adorable exchange. One, the all-caps excited shouting of Bobby Perrotti, a fellow dad and huge Moana fan. Two, the fact that the guy who showed this to Miranda was acting low-key out of respect for the fact that he had his young son with him.
Applause all around. Miranda and Bobby even had a follow-up exchange on Twitter.
RIP ME.
Everyone on Twitter seems to feel the same way.
https://twitter.com/jetpack/status/1075779664650457088https://twitter.com/jetpack/status/1075760135077879808
https://twitter.com/jetpack/status/1075759669799518209
https://twitter.com/jetpack/status/1075760008065941506
Another member of the Juggling Dads Group Text chimed in, making this story complete.
https://twitter.com/jetpack/status/1075763003151319040
Is there anything more pure or sweet or good in this world than this story? On behalf of parents and humans who like art everywhere, thank you, Dad Group, for telling Lin-Manuel Miranda how we all feel about him.
This article was originally published on