You Need Lin Manuel Miranda's Twitter Feed In Your Life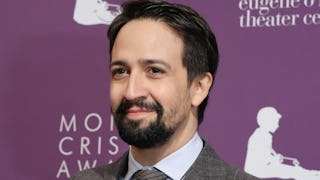 Image via Bryan Bedder/Getty Images for The Eugene O'Neill Theater Center
It's impossible to have a bad day that begins and ends with affirmations from Lin-Manuel
You may already be aware of the existence of Lin-Manuel Miranda. He's the creator and star of Hamilton, arguably one of the best and most famous musicals of all history. He also wrote and starred in another Tony-winner, In the Heights. He's playing Jack the lamplighter in the upcoming Mary Poppins Returns, which is sure to be another star-making performance. And in between it all, he runs one of the most wholesome Twitter accounts on the internet.
RELATED: How To Write A Gratitude List And Learn To Count Your Blessings
Seriously, you need to be following Lin-Manuel. Even if you're not a Twitter person, make yourself an account and just follow him. No one else. He is all you need.
Why, you might ask? Because Lin-Manuel's Twitter feed is full of exactly the kind of affirmation and encouragement we all need to get through these trying times. The world is pretty rough right now. There are desperate asylum seekers being shot with tear gas at our borders. Brett Kavanaugh is a Supreme Court justice. Teens who made a shocking display of overt racism in a school photo are basically being told that was fine. The headlines are just full of racism and bigotry and other really depressing things, all spurred on by the president and his administration. Things are not good.
But Lin-Manuel's Twitter feed is good. Take, for example, his "good morning" and "goodnight" affirmations, which he posts every weekday. This one was (appropriately) posted on Thanksgiving.
If that's not a reminder to take a moment to take stock of the good stuff, what is?
Sometimes the affirmations are poems or raps or basically beautiful art that Lin creates and shares with us just because the world needs it. How magical is that?
Other times, he just tells it like it is, which is that all of us are important and have something to offer the world. In fact, he does those kinds of affirmations on a lot of days.
Sometimes he gives us the reminder we need to hear.
Sometimes reminders to work on what you love.
Sometimes reminders that we are all unstoppable.
And all of those reminders are peppered with updates from the movies and plays he's working on, photos of his hilarious and sweet pup, Tobillo, updates about his precious kiddos, including Sebastian, who is fast becoming a Twitter celebrity himself, and lots of activism for what's still good in the world. Basically, a steady stream of just happiness that can come at you every day if you just subscribe.
If technology really isn't your thing, you can also buy a set of Lin's daily tweets in his new book, "Good Morning, G'Night," which is illustrated by Jonny Sun, another remarkably wholesome tweeter.
Basically, Lin-Manuel is one of the best defenses we have against this scary world. He is a light in the dark; a supportive, uplifting couple of moments that you can have every day, regardless of how the rest of the day goes. We all need that.
This article was originally published on