Supermodel Linda Evangelista Says Body Sculpting Procedure Left Her 'Disfigured'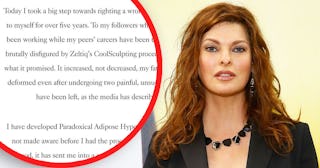 Astrid Stawiarz/Linda Evangelista /Getty
Supermodel Linda Evangelista opens up about botched body contouring procedure
Iconic supermodel Linda Evangelista — well-known for her appearance with other '90s modeling titans in the George Michael "Freedom" video — recently revealed on Instagram that she had become "brutally disfigured" after undergoing a body-sculpting procedure that she said was so traumatic it stalled her career and left her "unrecognizable."
In an Instagram post, Evangelista announced that she was pursuing a lawsuit, presumably against the makers of the Zeltiq CoolSculpting device. CoolSculpting is a body-contouring device that "literally freezes and kills fat cells." It is non-invasive and common in Hollywood, making Evangelista's post so shocking, considering how popular this treatment is.
"Today I took a big step towards righting a wrong that I have suffered and have kept to myself for over five years," Evangelista said in the post. "To my followers who have wondered why I have not been working while my peers' careers have been thriving, the reason is that I was brutally disfigured by Zeltiq's CoolSculpting procedure which did the opposite of what it promised."
"It increased, not decreased, my fat cells and left me permanently deformed even after undergoing two painful, unsuccessful, corrective surgeries," the model continued. "I have been left, as the media has described, 'unrecognizable.'"
After the procedure, she developed paradoxical adipose hyperplasia (PAH), which The New York Times describes as a side effect to the procedure "in which patients develop firm tissue masses in the treatment areas."
"PAH has not only destroyed my livelihood, it has sent me into a cycle of deep depression, profound sadness, and the lowest depths of self-loathing," the model continued. "In the process, I have become a recluse."
Despite being FDA approved, The Times points out that the parent brand for CoolSculpting does admit that "the procedure may cause an enlargement in the treated area about two to five months after treatment, requiring surgical intervention for correction."
Evangelista's peers have responded to the news with support and love.
"Linda — your strength and true essence are forever recognizable and iconic! Bravo!" Cindy Crawford commented on the post.
"I applaud you for your Courage and strength to Share your experience and not be held hostage by it anymore…You know I love you. We love you…and here for you always Right by your side," said Naomi Campbell.
"It would've taken immense courage and strength to write these words. I can honestly say that I broke down in tears reading this," Helena Christensen added.
It's unclear when Evangelista had the procedure, but she says she's coming forward now because of the lawsuit and also because she wants to "rid myself of my shame."
"I'm so tired of living this way," Evangelista concluded her post. "I would like to walk out my door with my head held high, despite not looking like myself any longer."