That Awesome Teen Punk Band Got A Record Deal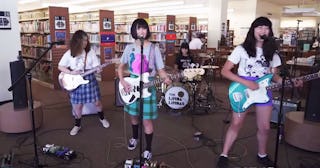 LA Public Library/Youtube
The young punk band behind this weekend's viral song "Racist, Sexist Boy" just signed a record deal
Over the weekend, a punk band comprised of four tween and teenaged girls went viral for their power anthem: "Racist, Sexist Boy." The badass song called out anti-Asian American bias and misogyny and was catchy as hell and now, the band — called The Linda Lindas — got a record deal.
"A little while before we went into lockdown, a boy in my class came up to me and said that his dad told him to stay away from Chinese people," drummer Mila explains before the group launches into their performances in the now-viral video. "After I told him I was Chinese, he backed away from me. So this is about him and all the other racist, sexist boys in this world."
The song is less than two minutes but it's clear from beginning to end that these young women aren't here to play.
"You are a racist sexist boy / And you have racist sexist joys / We rebuild what you destroy," Eloise sings while the rest of the band jams out on their guitars.
The band is comprised of four girls (Bela, Eloise, Lucia and Mila) who range in age from 10 to 16 and according to their Bandcamp bio, The Linda Lindas are "Half Asian / half Latinx. Two sisters, a cousin, and their close friend [who] channel the spirit of original punk, power pop, and new wave through today's ears, eyes and minds."
Despite still being in school (the youngest hasn't even entered middle school!), the Los Angeles Times reports that they've just signed to LA punk label Epitaph Records, just days after their May 20, 2021 video went viral.
The band formed in 2018 when the girls met at Girlschool LA, a rock camp that celebrates women-identified-fronted bands and artists. Despite only just now signing a record deal, KQED reports that the band was recently in the Netflix movie Moxie and wrote a song for the Netflix documentary The Claudia Kishi Club. In an adorable footnote, LA Times reports that The Linda Lindas recorded their last album during a sleepover.
"It's kind of weird because we're still at home in our pajamas. Nothing really has changed yet; it's not like we're going out and it's like, 'Oh my God, it's the Linda Lindas,'" Lucia told the LA Times. "But, like, yesterday my whole feed was just about us, and I was like, 'Whoa, this is crazy.' I keep getting phone calls and texts from people that I haven't talked to in years that I would never think would know about the band."
As for the record deal and their newfound viral fame from the weekend, Bela is mostly just worried about getting her school work done in time.
"It's hard because I have, like, three projects due on Monday, and I haven't even touched them," Bela told the LA Times two days after the video went viral.
Rock on little queens.