Linda Ronstadt Put Mike Pompeo In His Place During State Dinner
by Julie Scagell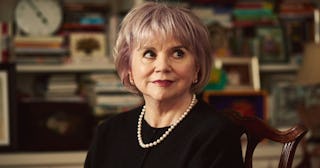 Jessica Chou/Getty Images
Ronstadt to Pompeo: 'Maybe when you stop enabling Donald Trump'
The 2019 recipients of the 42nd annual Kennedy Center Honors for lifetime achievements in the arts have been named and honored during a State Department dinner on Saturday. And one of those recipients is making headlines this morning after putting Secretary of State Mike Pompeo in his place: beloved singer/songwriter Linda Ronstadt.
Sam Greisman, the son of Oscar-winning actress and fellow Kennedy Center Honors recipient Sally Field, tweeted about the moment, which he said came after Pompeo "wondered aloud when he would be 'loved,'" presumably playing on the lyrics of one of Ronstadt's hits. Ronstadt wasted no time in telling him exactly when that time would be.
According to Greisman, "Linda Ronstadt got up to get her laurels, looked the fucker right in the eye and said 'maybe when you stop enabling Donald Trump.'" And boom goes the dynamite.
If you're wondering whether Ronstadt has always been interested in politics, the answer would be a resounding, "yes." Here's just a peek at an interview she did back in the day and she clearly knows what's up.
In addition to Field and Ronstadt, this year's Kennedy Center Honors recipients include R&B group Earth, Wind & Fire, the creators of Sesame Street, and conductor Michael Tilson Thomas. Ronstadt was, as Greisman noted, an icon in American music in the 1970s and 1980s. She graced the cover of Time magazine in 1977 and continued to make music until 2011 when she announced her retirement from singing due to Parkinson's disease.
The State Department dinner, where honorees receive a rainbow-colored ribbon to wear around their necks, comes one day ahead of the official awards ceremony airing on CBS on Dec. 15. For the third year in a row, neither President Donald Trump nor First Lady Melania will be in attendance. In past years, multiple recipients threatened to boycott the event if he attended.
Obviously, everyone wants to get their hands on the video of the exchange to see Pompeo get dog-walked by Ronstadt with our own eyeballs. The dinner celebration will be aired on CBS sometime next week, so one can only hope they don't edit out this amazingness.
"With worldwide album sales of more than 50 million, 31 gold and platinum records and 10 GRAMMY Awards, Ronstadt is the consummate American artist," CBS wrote on its site. "Ronstadt sang her last concert in 2009 and shortly thereafter announced her retirement from singing. Unlike most retirements, however, Ronstadt's has been quite busy. Her book Simple Dreams, A Musical Memoir, released in 2013, made The New York Times best-seller list and kicked off an extensive book tour."
Ronstadt proved once again she is a goddess both in the music industry and out, telling it like it is and reminding all of us that there are always chances to stand up for what we believe in. She just managed to do it in a very public way.