We Must Start Paying Attention To The Lethal Link Between Gun Violence And Domestic Abuse
by Kimberly Brusk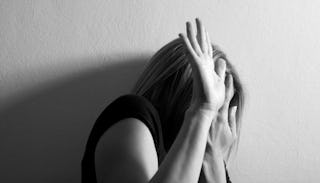 AngiePhotos / iStock
This week's deadly shooting at North Park Elementary School in San Bernardino, California, left three people dead, including one 8-year-old student. The shooter, who reportedly had a criminal history, killed his estranged wife Karen Elaine Smith who was teaching at the school. He also killed one of Karen's students and shot and injured another child before he shot and killed himself.
My heart goes out to the families of the victims and the survivors who are suffering from this senseless act of violence.
This shooting is another heartbreaking example of the deadly link between domestic violence and gun violence. I know from personal experience the dangers of a domestic abuser with a gun.
Eight years ago, I went to the women's shelter after my husband's abuse escalated. I got a protective order against him, hoping that would help keep my toddler daughter and me safe. My decision to involve law enforcement helped me get a protective order and document the abuse but did not stop him. It escalated.
He broke into my home and assaulted me. Police arrested him for domestic violence assault. His parents paid his bond, and he left jail the next day. A few days later, I came home from grocery shopping to a dark house — but I knew I had left the lights on when I left earlier.
I flipped the switch and found my ex standing in the doorway with a shotgun pointed at me. I ran out the door as he fired at me. Had my instincts been any slower, or his aim been any better, I would be dead.
Even after my shooting, the family court system continually failed me. My daughter is now 11, and I'm forced to co-parent with my abuser. I moved 900 miles away while my ex-husband was in prison to establish a geographical boundary and protect my family. He only received 15 months in prison for his crimes against me and was paroled just four months after sentencing.
As a survivor of a domestic violence shooting, I know addressing domestic violence and gun violence go hand in hand. We know the majority of this country's mass shootings are related to domestic violence. A recent analysis shows that in mass shootings involving domestic or family violence, children make up more than 40% of those killed.
What you may not know is that domestic violence abusers are some of the most predictable and preventable perpetrators of gun violence. They follow patterns of violence, and we must do more to keep guns out of their dangerous hands.
Survivors of abuse in this country are revictimized by a system that gives violent men second, third, and tenth chances to abuse them. Karen Elaine Smith, the teacher killed in San Bernardino, had every right to live her life and go to work without fear of her estranged husband hurting her or her students.
We need to teach men not to abuse. We need to treat domestic violence and gun violence as the public health epidemic that it is. We must do more to keep guns out of the hands of domestic abusers.
Since my shooting, I've been working with Moms Demand Action and Everytown for Gun Safety to share my story and raise awareness about the lethal link between gun violence and domestic abuse. Through this work I have met thousands of volunteers who are speaking out and showing up at state legislatures across the country to do more do keep guns out of the hands of dangerous people like domestic abusers.
There's so much work to do. We need more Americans to join us, to stand up and demand that our families and communities be free from gun violence and domestic abuse.