100% Of Profits From This 'F*ck Trump' Lipstick Go To Migrant Families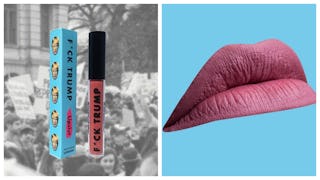 Image via Lipslut.com
You're gonna love everything about this lipstick brand
Lipslut cosmetics is the beauty brand we all need right now. Founded last year as a way of fighting the patriarchy through beauty, Lipslut's "F*ck Trump" lipstick shade is not only a flattering, pinky nude hue — all sales profits will go toward reuniting separated immigrant families.
Founded in 2017, the "F*ck Trump" shade was the brand's first foray into a matte liquid lipstick. "F*ck Hollywood" is the other — a bright, red-carpet red that launched amid the Time's Up movement.
While 50% of Lipslut's "F*ck Trump" profits have always gone toward a civil right's organization of the buyer's choice, from now until July 19 100% of earnings will be donated to support families that have been separated at the border.
Some of the charities buyers can choose include the Refugee and Immigrant Center for Education and Legal Services (RAICES), Las Americas Immigrant Advocacy Center, and Young Center for Immigrant Children's Rights.
After the Charlottesville attacks last summer, Lipslut raised over $40,000 for the victims through sales of their "F*ck Trump" shade. Which, name and extremely valid purpose aside, is just an incredibly pretty lipstick.
It's trendy, universally flattering, and all proceeds go toward a worthy and noble cause.
TAKE MY MONEY.
Founder Katie Stones created Lipslut on the day of Trump's inauguration. "I was literally watching Trump's inauguration and decided I had to take action," Stones tells Popsugar. "I created Lipslut after recognizing my passion for cosmetics could be used as a vehicle to inspire social activism."
https://www.instagram.com/p/Bgeg7r0HqUJ/?taken-by=hello.lipslut
I can relate. On the day of his inauguration, I sat in a tattoo shop and branded my forearm with the Venus symbol. Fighting the patriarchy comes in many, many forms.
As for Lipslut's mission of being a beauty brand with purpose, Stones says "It's meant to be a middle finger to the current socio-political landscape."