Target Is Now Selling Lisa Frank Pajamas Because Dreams Come True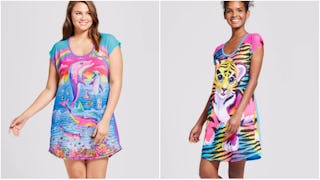 Image via Target
Rainbows and unicorns and dolphins, oh my
Lisa Frank has filled our lives with rainbows, dolphins and unicorns since before we were in braces. As adults, we got Lisa Frank leggings, and now, they're making our multi-colored dreams come true once again with an amazing line of women's pajamas.
Bonus? They're sold at Target, where we basically live anyway.
Yes, it seems the universe thought we needed yet another reason to have our entire paycheck directly deposited into the big red bullseye, because our favorite retailer is carrying the most whimsical pajamas you'll ever own as an adult lady. All in Lisa Frank's adorable designs.
Holy shit, a dolphin nightgown. Someone hold me, it's too much.
The line carries a full range of sizes in both oversized sleep tees and totally cute sets of t-shirts and shorts.
Fire up the minivan and get yourself to Target. Pronto.
The next time your husband is expecting sexy lingerie (and if we're talking about my husband, that's never) bust out this little number. Roar.
I am literally ordering this unicorns and rainbow set right now. My kids are going to be so jealous and I give not even one shit. MINE.
Because if anyone deserves magical gear at bedtime, it's moms.
The pajamas run between $15-20, so your childhood hopes and dreams can be realized for the price of just a few Starbucks lattes. Worth it.
One Twitter user captured my sentiment perfectly.
Anyone else besides me met with a wall of "no" when asking their mom for a Lisa Frank school supply collection? That's why I'm a 35-year-old woman with rainbow-colored stationary and unicorn pencils. Because we're adults and we buy what we want.
And now that can include dolphin nightgowns. Happy shopping!