Follow the Want / Need / Wear / Read Trend? Here's Your List.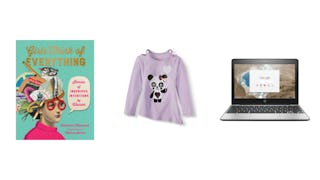 walmart.com
We all do Christmas our own way, and that's part of the magic. If your family believes in giving four gifts—something your kids want, something they need, something to wear, and something to read—we have a list of great ideas for you, from books that empower kids to change the world, to fun toothbrushes that might help prevent cavities and dentist bills. Here are a few choices from each category that will ensure your Christmas morning is a success.
Something they want:
As usual, the hottest video game system is sure to appear on a lot of kids' lists this year, and for 2018, that game is likely the Switch. With its portability and games like Mario Kart 8 Deluxe and Super Smash Bros. Ultimate, this gift will be a hit for the "want" category—we guarantee it.
The Nerf Modulus Ghost OPS Evader comes equipped with 12 darts, a 12-dart clip, and a light-up barrel extension.
Don't forget Hatchimals, parents. These suckers still rule in little kid world, so the Hatchimals Mystery toy (which is somehow even MORE exciting and mysterious than all the other Hatchimals) is a must-have.
Another hot toy item this year is Baby Alive. This one is potty-training (just like your kid!) so maybe if Baby Alive makes it to the potty in time, so will your three-year-old, meaning everyone will have a merry Christmas this year.
Something they need:
Channel your child's love for unicorns with a cute water bottle like this one (or, if Paw Patrol is more their scene, get that one instead.)
Another need kids have a container for their go-gurts and apple slices. This Lightning McQueen lunchbox will be a hit (and might make your kid more willing to eat his fruit at the lunch table).
When you think of ideas for the "need" category, you know their teeth need to be healthy. So entice them to get their brushing on with a fun spin toothbrush that has their fave movie or TV characters on it.
Yep, in 2018, this one's a "need" and no longer a mere luxury. Kids will oftentimes need their own laptop like this HP Chromebook by middle school, or high school at the latest. Welcome to the digital age!
Something to wear:
Bonus! A big purchase like this one also fill the "want" and "need" category too! I mean, the kids need shoes, right? So give yours some serious playground cred with these retro Air Jordans and their Christmas will be made.
Another fun item for the "wear" category are fun socks. Whether they love animals, or the periodic table, or Harry Potter, there are unique socks out there for everyone. How about these Griffindor knee-high socks for their stocking? (They come in Hufflepuff, Ravenclaw, and Slytherin too!)
Flip sequins are all the rage—from purses to sweatshirts to pillows, you can't go wrong with a flip sequin gift. This flip sequin shirt will channel your child's obsession with this trend (and their love for pandas!) as the bear changes color when flipped.
Kids love Under Armour. Socks, shorts, sweats, and t-shirts like these with cool sayings like "The Boss is here" are sure to be a hit—especially if paired with Air Jordans. (Mom needs that t-shirt too, BTW.)
Something to read:
Named the best book of 2018 by Publishers Weekly and NPR, Dreamers tells the story of a mother who emigrated to the U.S. from Mexico with not just her infant son, but also with her hopes, dreams, passions, and willingness to work hard to make it happen. This one's an important book that teaches our kids the truth about an immigrant's journey.
Girls and women DO think of everything, making this the best title ever. A book about women inventors and all the amazing contributions they've made to our society? Yes please. Our girls and boys need this book on their shelves.
Being sad, and happy, being scared, and brave, having the capacity be hurt, and to hurt others—our kids must learn that these are all part of being human. But most importantly, we must teach them to have empathy for one another. And this book teaches just that.
The Diary of a Wimpy Kid series continues to reign supreme at the top of the best-seller list, and Jeff Kinney's latest edition—The Meltdown is no different. If your child loves this series, or if you'd like to introduce them to it, this book is a great choice for the "read" category.
If your family follows the 4-gift trend, these are a few suggestions that have proven successful among todays' kids. Get them dressed up in Harry Potter socks, empower their minds with good lit, and send them off to school with a kick-ass lunchbox. Boom. Christmas is done.
We are a participant in the Walmart.com Affiliate Program and may earn fees by linking to Walmart.com and affiliated sites.
This article was originally published on