Literally Just GIFs Of Women Destroying Sh*t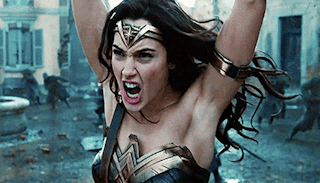 Image via YouTube screenshot
Because you probably want to set everything on fire right about now
The world is a giant dumpster fire right now, and if you're a woman you probably just want to crawl into bed and never come out. I know. I know. I feel your pain.
I realized today that I've just randomly been sending my female friends GIFs of women destroying shit. Like, a lot. And you know what? It's really therapeutic. So I've compiled a list for you.
Maybe you want to send one to your boss when he thanks your male co-worker for an idea you've been pushing for weeks. Maybe you want to send one to that person who just commented, "I don't see how this is helping anything" on the #MeToo post you just shared. Maybe you want to send one to your racist Aunt Shelley. I don't know! They're so versatile! They can really be used for anything.
F*CK THIS.
OH, YOU DON'T THINK INSURANCE SHOULD COVER MY BIRTH CONTROL?
YES, I KNOW THINGS HAPPEN TO MEN TOO, BUT WE'RE NOT TALKING ABOUT THAT RIGHT NOW, OKAY? IS THAT OKAY? CAN SOMETHING BE ABOUT WOMEN FOR ONE F*CKING SECOND? JUST ONE?
THAT'S NOT HOW MEMORIES WORK, YOU DUMB POS.
STOP TWEETING, YOU ORANGE MONSTER.
WHAT DID YOU SAY? YOU THINK I SHOULD SMILE MORE?
I CAN'T. I CAN'T. I CAN NOT.
Whew. I feel better.
This article was originally published on