Little Fires Everywhere Is Our Latest Television Addiction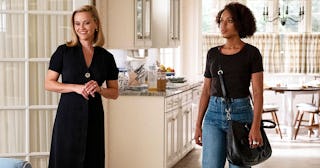 Hulu
It's 1997, and there's a mansion engulfed in flames. This is how viewers are introduced to Little Fires Everywhere, the twisted tale of two, soon-to-be-three, women. We meet Mia, an artist and single mom to her teenage daughter Pearl. They are desperate to secure housing, when they're offered discounted rent by do-gooder landlord Elena, an overbearing, pearls-and-heels wearing mom of four. From the get-go, we know there's going to be some serious drama. Mia clearly has some deep, dark secrets, and Elena is determined to be Mia and Pearl's white savior.
In light of the coronavirus pandemic, HULU decided to drop the first three episodes at once, promising us a new episode each Wednesday. Every episode is more intense than the last. Mia, played by Kerry Washington, and Elena, played by Reese Witherspoon, are polar opposites, clashing at every turn. They can't seem to get away from one another when their children become close friends, and then Mia cautiously accepts the position of Elena's house manager. Despite all of the red flags, the two families' lives quickly become entangled. To put it mildly, the plot gets real complicated, real fast.
The show is based on the bestselling fiction book, authored by Celeste Ng, with the same title. The book, much like the show, promises to delve into some of the most complicated and emotionally-charged topics. Little Fires Everywhere tackles race, class, motherhood, culture, marriage, feminism, sexuality, infertility, adoption, and parenting.
Don't take it just from me, though. Washington recently confessed to her Instagram followers that she has never played a more complex and fascinating character in her career. Once you watch the show, you'll see exactly what she means.
Washington has intrigued us for years, including her well-known role as Olivia Pope on Scandal. Witherspoon, who has been dubbed as America's sweetheart, first wowed us movies like Fear and Legally Blonde, later taking on roles including Madeline Martha Mackenzie in Big Little Lies. These two phenomenal actresses are joined by '90s teen heartthrob Joshua Jackson, who plays Elena's husband. Jackson and Witherspoon were co-actors in the teen flick Cruel Intentions.
Episode one is titled "The Spark," and yes, there are some serious metaphorical ignitions. Next up is episode two, "Seeds and All," an obvious clue that seeds are being planted in the viewer's mind. Then there's episode three, called "Seventy Cents," where we learn about shortcomings and life-altering decisions. To put it mildly, I cannot get enough of this show. Ever since it dropped, I've received multiple messages and texts that others are loving it, too.
What's not to adore? Elena insists on picturesque family dinners with her lawyer-hubby and four kids, Izzy, Moody, Lexie, and Trip. She's a book club hostess and the go-to party planner in her friend circle. Meanwhile, Mia is an artist who uproots herself and Pearl at every turn, fleeing a yet-to-be-named predator. While Elena is having scheduled sex with her husband, Mia is awakened by vivid nightmares. We are privy to a few teaser-flashbacks, offering us teeny hints as to why Mia is afraid. Every minute of the show invites us to want more.
Little Fires Everywhere is rated MA, deemed appropriate for mature audiences only. Heads up that this isn't a family-friendly show. There's drug usage, sex, and plenty of f-bombs. Overall, the show's level of serious suspense and adult themes isn't for kids. Even though there are teenagers in the show, it's arguably not a show for your younger teens either, and I would suggest you preview it before showing it to the teenagers in your house.
After binging on the first three episodes while nervous-eating all the carbs, I'm left with just one question. Who will get burned next? I'll have to wait until Wednesday to find out.
This article was originally published on