Every Neighborhood Needs A Little Free Library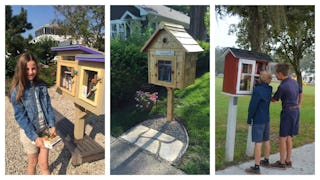 Christine Burke / Stacia Ellermeier / Melissa Fenton
When I was a little girl, my family moved around the country frequently. With every new neighborhood came the challenges of making new friends and developing different routines. Because it's just plain hard to be the new girl all the damn time, I found solace in books as a way to pass the lonely hours of the first few weeks in a new house.
Ramona Quimby and Laura Ingalls Wilder became cozy companions, and to this day, I smile fondly when I see a Judy Blume book in the bookstore. The only constant in my life during that chaotic time was that every town had a library. And libraries were the gateway for me to reunite with my book friends when we moved to a new town.
These days, trips to the library have been replaced with downloads from clouds I don't understand, and the joy of flipping through a dog-eared book while standing in the hushed aisles of a library has become a thing of the past. While we frequented our local library when my children were younger for story time and craft activities, now that my kids are teens, I'm sad to say we don't make it into our library as much as I'd like.
But the Little Free Library network has made it easier for me and my kids to indulge our love of reading. And even better: We can find a local version in pretty much every city we visit.
The Little Free Library was started in 2009 by Todd H. Bol and is "a nonprofit organization that inspires a love of reading, builds community, and sparks creativity by fostering neighborhood book exchanges around the world." Little Free Libraries have increased access to books in low-income neighborhoods and have fostered a love of reading with the millions of books that are exchanged each year.
And the concept is so simple that it's easy to see why there are over 50,000 registered Little Free Libraries in all 50 states and in 70 countries around the world. The Little Free Library works on a "take a book, return a book" honor system, and each little library is full of local personality. Owners of Little Free Libraries have the choice of either purchasing a premade library or constructing one of their own. And as my children and I have discovered, people take their love of sharing books seriously.
While on a visit to York Beach, Maine, this summer, my daughter and I were excited to discover a Little Free Library near the Nubble Lighthouse. Not only did the library offer adult and children's selections, the owner had left dog treats for anyone passing by with their pooch. And there was a water station for the pups, too, just in case your dog got thirsty while waiting for you to select your book. We delighted in signing our names in the guest book, and we returned our selections to a different Little Free Library in another section of town.
For Stacia Ellermeier, books have always been a huge part of her life. She tells Scary Mommy, "I've always secretly wanted to be a librarian." While searching Pinterest for winter project ideas late one night, she came across plans for a build your own Little Free Library and she showed her husband, an accomplished woodworker. Together, they built their library, and Ellermeier says they have loved the interaction their library has brought to their Geneva, Illinois, neighborhood, particularly the guest book.
"We had one man write that he discovered Hardy Boys again after 30 years and it meant the world to him," she says with a smile.
As a librarian, Melissa Fenton of Dade City, Florida, loves the access Little Free Libraries provide busy families. Fenton tells Scary Mommy, "Little Free Libraries offer unparalleled access to patrons, and for those whom regular library hours are not feasible, like working families." She says, thanks to Little Free Library, everyone can enjoy free books at any time, anonymously, and all based on the generosity of their fellow neighbor and book lover. What's not to love about that? Fenton also says she and her four boys frequent the Little Free Library in their Dade City neighborhood too.
And here's a glimpse at some of the Little Free Libraries from around the world:
Azusa, California
Traverse City, Michigan
Tegucicalpa, Honduras
Sandy Springs, Georgia
If all of these adorable libraries are making you itch to find one in your neck of the woods, Little Free Library has a world map so that you, too, can experience the joy of visiting what's been described as "little town squares." Make sure to leave your name in the guest book too!
And if you want to create your own Little Free Library, the website offers easy-to-follow instructions so that you, too, can create a lending community in your neighborhood. Watch this video to get started!
Happy reading!