Little Girl Serenading Mom With Cancer Will Make Your Heart Explode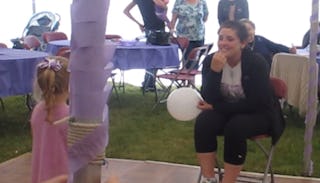 Image via EllenTube
A parent battling cancer has a lot on their plate. They're worrying about being a good parent while also worrying about living long enough to watch their children grow up. Through all the treatments and appointments, their little ones must provide some strength and comfort, as we see in this heart-breaking viral video of a little girl singing to her cancer-stricken mom.
Martina McBride's 2011 hit "I'm Gonna Love You Through It" has become something of a theme song for those supporting loved ones diagnosed with cancer. The lyrics are so moving and describe the struggle of a young mother going through the scary experience of a cancer diagnosis. McKenna Stanchak and her mother Dianna know that awful feeling all too well, as Dianna is battling Hodgkin's Lymphoma. McKenna sang the song to her mom at a party recently. The video of McKenna singing has since gone viral thanks to it's inclusion on EllenTube. Prepare the tissues, it's a tear-jerker:
According to Dianna's mother, Dee Silvernail, McKenna and her mom have a special connection to the song. From NY Daily News, Sivernail says, "She was diagnosed with Stage 4s Hodgkin's Lymphoma 'specialty' — a very rare form on Christmas Eve 2013. McKenna sings this song to her Mommy EVERYDAY! She is the main reason she fights to live and beat this battle." We can only imagine how much it meant to Dianna to have her daughter sing their song in front of a crowd of family and friends. What a memorable moment for them.
McKenna nails her rendition of the song, but it's her mother that I couldn't take my eyes off of. Any parent watching knows what's likely going through her mind. Naturally, the sight of your beautiful daughter singing to you in the sweetest voice imaginable could induce tears on it's own, but Dianna is probably thinking of a lot more than that. She's thinking of how much she's had to ask her child to understand over the course of her treatment. She's thinking of the times Mommy has been too sick and tired to play with her, or not home because she's receiving chemotherapy. She may also be envisioning McKenna growing up without her, as I imagine every parent dealing with cancer can't help but do. This moment is a lot more than McKenna singing to her mother about how she'll "love her through it." I'm sure Dianna is realizing how her love for her daughter will get her through it too. How unspeakably beautiful and sad, at the same time.
As parents, we deal with any number of difficulties in our day, be it a toddler refusing a nap, battles between siblings or another lunch dumped onto the kitchen floor. I hate with all of my might that cancer exists and that it disrupts the lives of young parents and their children. If we can take anything positive from these stories, let it be the perspective it gives us. We need to be grateful for health and for all of the beautiful moments we get with our kids every day, and the hard ones too. We hate that Dianna has to fight, but videos like this are a powerful reminder of what's really important in life.
This article was originally published on