You Need This Little Mermaid Dinglehopper Makeup Brush Set In Your Life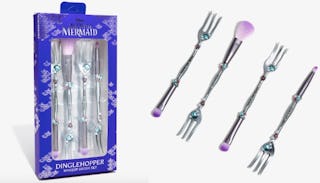 Image via Hot Topic
Little Mermaid Dinglehopper makeup brushes are the whimsy your makeup routine is looking for
Putting on makeup is fun, but you know what's even better? Putting on makeup using a set of Little Mermaid Dingleopper makeup brushes. They look just like Ariel's own "dinglehoppers" — aka, a fork that she used as a comb.
The adorable set can be found at Hot Topic for the extremely reasonable price of $27. Isn't it neat? But if Dinglehoppers aren't really your thing, there are plenty of other options out there to make your makeup applying slightly more magical.
This very handy set includes 16 different brushes, so you're covered (literally) for applying foundation, eyeshadow, lipstick, and anything else your little makeup-loving heart desires. Its iridescent finish and pretty aqua-colored bristle tips are a bonus.
If you don't quite need a 16-piece set, allow this adorable half dozen to fit all of your needs. It promises to work for contouring, foundation application, and eyeshadow among other features. It's also beautifully shimmery but more rainbow than the previous set. They promise to give "a soft and pleasing feeling to your angel face," and who wouldn't want that?
Ok, ok, one more mermaid set, because we couldn't just ignore these beauties. They're the most rainbow-hued of them all, and super versatile boasting 10 pieces.
If you feel like mermaids just aren't enough whimsy, maybe these unicorn brushes are what you need. The handles are unicorn horns. Enough said.
Now if you're down with unicorns but need a little more colorful shimmer in your daily routine, please feast your eyes on these far more bold unicorn makeup brushes. Still holds the magic but with an extra touch of glam.
If you don't feel the need to involve mystical creatures in your beauty routine, that's ok — you can just go for fun colors with this dreamy set of 10 brushes.
Or maybe these neon-tipped brushes are more your speed. They come with a bonus beauty blender, and we can always use a spare one of those.
There's a set of fun makeup brushes for pretty much anyone's taste, so happy blending — and happy shopping.
We may earn fees from purchases made via links on this page and affiliated sites. All opinions are our own.
This article was originally published on