Little Miss Flint Is Raising Money So Kids Can See 'A Wrinkle In Time' For Free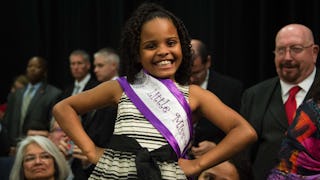 Image via Jim Watson/Getty
Little Miss Flint is helping local kids see A Wrinkle In Time
Is there anything Little Miss Flint can't do? When she was just eight, she emailed then-president Barack Obama and convinced him to visit Flint, Michigan to view the water crisis firsthand. Then, she raised $10,000 to provide backpacks chock full of school supplies for Flint students. Now, she's got her eye on another worthy fundraising challenge — and she's already crushing it.
Mari Copeny, aka Little Miss Flint, is raising money so that her fellow Flint kids can go see A Wrinkle In Time in theaters for free. The 10-year-old set up a fundraising page with a $10,000 goal, and has already racked up $6,526 in five short days.
"Not often do you see a black girl as the star of a movie, let alone the one who saves the world. I want little girls to be able to watch this movie and be able to see themselves and the potential that they can 'save the world' as well," Copeny wrote. "…This cast is packed with smart strong women and it is important for young girls to see these images represented in all forms of media, especially on the big screen."
Representation matters. So much.
She added that she would also like to give each child a copy of the novel A Wrinkle In Time because "books not only take us to places unknown, they empower us to be whatever we want to be."
"Mari has got a book drive for the Wrinkle In Time book, she started out asking for 150 copies, she got 150 copies sponsored in 20 minutes," Mari's mom Loui Brezzell told Scary Mommy. "Now her new goal is 1000 of these books."
Little Miss Flint is killing it and we're not crying at all.
This isn't the first time that Copeny has delivered some amazing movie magic to Flint. She recently raised $16,000 so that a group of kids from Flint could go see Black Panther for free.
"We were able to buy out an entire theater that seated 150+ kids, every kid that left got a #DearFlintKids project letter, a comic book featuring a hero of color, and special treat," Copeny noted on her fundraising page. "We also gave out exclusive Black Panther shirts and thousands of dollars of Black Panther toys and merchandise."
Oh yeah, and she also helped an additional 650 Flint kids score movie gift cards so that they could see the film during opening weekend.
Sooooo…should we just go ahead and vote Copeny in for president, come 2043? The world needs all the Little Miss Flint it can get.
This article was originally published on