Why 'Little People, BIG DREAMS' Books Should Be On Every Parent's Radar
by Amber Leventry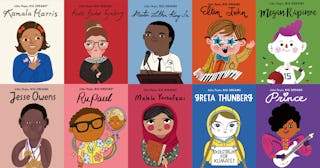 Little People, BIG DREAMS
I don't know if you know this, but buying books is always a good idea. Any book from the "Little People, BIG DREAMS" collection is a great one to add to your home library and would make a great gift for school classrooms, birthdays, or expectant parents looking to start their own library for their little ones. Unfortunately buying books is not always an option because of financial barriers, but there are workarounds. Most libraries—your town and school libraries—are willing to purchase books when they are requested by a tax paying citizen. I highly suggest you purchase, check out, or borrow one of the 65 books written by Maria Isabel Sánchez Vegara.
Maria Isabel is the creator and author of the best-selling series which has been translated into 20 languages and has sold nearly 4 million copies worldwide. "Little People, BIG DREAMS" is a collection of biographies about artists, activists, and dreamers who have made the world a better place because of their existence and drive to make their dreams come true. The series is similar to the "Rebel Girls" and the "Ordinary People Change The World" books because of the kid-friendly way they showcase history makers. But the Little People, BIG DREAMS collection contains historical figures and adds pop culture and icons currently leaving their mark. The books are geared toward preschool readers and up. The text is direct and the illustrations are gorgeous and unique to each book because a different illustrator is used to bring each story to life using their own style and vision.
There are 65 titles to choose from with themes that include artists, athletes, activists, Black voices, BIPOC, entertainers, and LGBTQ. I want them all. But in the spirit of our kids needing to see more diverse representation and accurate history lessons through the lens of non-white and non-heterosexual and cisgender folks, I'm going to highlight some of my favorite "Little People, BIG DREAMS" books that feature queer, Black, and brown folks.
1 "RuPaul," Illustrated by Wednesday Holmes
I'm not sure if I'm more excited about the fact that RuPaul—the performing artist, punk band, drag queen extraordinaire—is featured in this series or that my favorite nonbinary artist created the artwork for this book. I want two copies.
2 "Megan Rapinoe," Illustrated by Paulina Morgan
Megan Rapinoe has used her soccer skills and the platform it has given her to speak up for gender equality in pay, queer rights, and the importance of allowing transgender athletes to play sports at any level. She's an all-around badass with so much more to offer than her gold medal and World Cup victory.
3 "Josephine Baker," Illustrated by Agathe Sorlet
Josephine Baker grew up in St. Louis, Missouri during segregation and quickly discovered her love of entertaining. She went from street performer to stage artist, but America didn't give her the opportunities she wanted or deserved because she was Black. She moved to France and lived her life as a respected dancer, actor, and spy. She was living proof that life is better when people of different colors live, work, and play together.
4 "Michelle Obama," Illustrated by Mia Saine
Michelle Obama was the first Black first lady but before that she fought her way through Princeton and Harvard to earn her law degree. She kept her family close and her integrity intact as she paved the way and empowered her daughters, other girls, and Black folks to use their voices for change.
5 "Malala Yousafzai," Illustrated by Manal Mirza
Malala Yousafzai is an incredible activist who is the youngest Nobel Prize laureate. She was born in Pakistan and was the victim of a violent hate crime for speaking up for girls' rights for education. She survived gunshot wounds and multiple surgeries and recently graduated from the University of Oxford. She continues her quest to create a world where all girls have the ability to learn.
6 "Bruce Lee," Illustrated by Miguel Bustos
Lee was born in San Francisco but raised in Hong Kong but when he couldn't stay out of trouble his father sent him back to America. He was already a star in Hong Kong movies, but breaking into Hollywood as an Asian American was much harder. His determination and skills as a martial artist led to several blockbuster hits and millions of kids who wanted to be just like him.
These are just some of the many highlights in the Little People, BIG DREAMS collection. Elton John, Prince, Mindy Kaling, Andy Warhol, Ruth Bader Ginsburg, Dolly Parton, Jean-Michel Basquiat, and Greta Thunberg are just a few more names the series features. The collection also includes a journal, learning cards, gift sets, and sticker and coloring books.
Do yourself a favor and get these books into your kids' hands. They're wicked cute, entertaining, and offer history lessons that use inspiring humans as examples.
This article was originally published on