Little Tikes Recalls 540,000 Swings After 140 Injury Complaints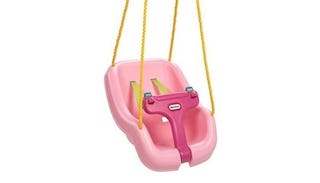 Image via Little Tykes
Consumers are urged to stop using the swings immediately
The toy company Little Tikes announced Thursday that they're voluntarily recalling 540,000 of a particular model of toddler swing amid multiple child injury reports.
According to the Consumer Product Safety Commission, the recall affects Little Tikes 2-in-1 Snug'n Secure pink toddler swings. The recall notice explains that the plastic seat can crack or break, posing a fall hazard. They give the following instructions for identifying the defective swings:
The swings have a pink T-shaped restraint in front with a Little Tikes logo. The swing is suspended by four yellow ropes. The model number 615573 is molded on the back of the swing seat and there is a manufacturing date code stamp on the back of the seat. The molded INNER arrow of the date code stamp points to "10", "11", "12" or "13", it is included in the recall. In addition, swings with a date code stamp of "9" on the INNER arrow combined with "43" or higher number stamped on the OUTER are included in this recall. No other date codes or other colored swings are affected.
As a result of the defect, Little Tikes has received about 140 complaints of the swing breaking, leading to 39 reported injuries including abrasions, bruises, cuts and bumps to the head. There were even two reports of broken arms due to the broken swing.
Even if you got your swing recently, it's worth checking the information to make sure you don't have one of the defective ones. Sometimes, people regift a toy that's been sitting around for a while. Or maybe it was found at a garage sale and hung at the babysitter's house. It's always worth checking into when it comes to our kids and their safety.
The toy was available for sale between November 2009 and May 2014 at Toys "R" Us, Walmart and other stores, as well as online at littletikes.com. Consumers who own the swing are urged to stop using it right away and to contact Little Tikes for a credit toward another Little Tikes product.
You can call them toll-free at 855-284-1903 from 8 a.m. to 8 p.m. ET Monday through Friday or contact them online at www.littletikes.com. Click on "Product Recalls" under the "At Your Service" menu for more information.