Sterling K. Brown Gives The Most Hilariously Accurate Description Of Childbirth, Ever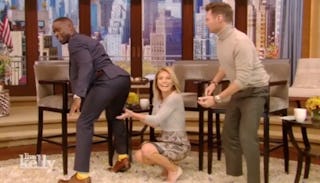 Image via Facebook
Sterling K. Brown tells the vivid story of his son's birth — and it's hilarious
It isn't often we hear a truly accurate portrayal of what childbirth is like from a dad. Especially from celebrity dads, who typically rattle off a few minor details and leave the rest a mystery. Well, that's officially no longer the case as we have this fantastic video of a celeb dad telling it like it is the moment your partner gives birth.
And it's freaking hysterical.
Actor Sterling K. Brown, best known for roles in "The People v. O.J. Simpson: American Crime Story" and new television drama "This Is Us," made a very memorable appearance on "Live With Kelly" earlier this month. Brown is the father of two young boys and as he shared with Ripa and co-host Ryan Seacrest, he was a very important part of bringing his first child into the world.
Literally.
He says his wife gave birth to their first child in near-record time — only a little over three hours from the first contraction until birth — and that means things got very real. Very quickly.
Sterling gave an incredibly vivid (and hilarious) description of the couple's unexpected home birth. On the phone with the mid-wife as his wife suffered through contractions, he insisted she couldn't be anywhere close to giving birth. And that was where he was very very wrong.
He says the mid-wife was advising the couple to "relax" and have a glass of wine as tomorrow would be a big day for them. This mid-wife was assuming that the first-time mom would be in labor for the typical amount of time, not three hours. And that's how Sterling ended up "catching" his own son.
Sterling says he "saw the membrane going down her leg" and told his wife it was her plug and they had plenty of time. She went to the bathroom and upon returning, announced that the baby was crowning. And this is where it gets ridiculously funny.
The soon-to-be-dad told her, "Sweetheart, you can't be crowning. It's your first baby, just try to relax." Then, he acknowledges the sheer insanity of a man trying to tell a woman mid-birth what's what. "I'm mansplaining what's happening to her," he says.
Dead.
The actor's wife called 911 at that point to reach paramedics, because she knew what the hell was going on. Meanwhile, Sterling is still on the phone with the mid-wife. He says his wife was having "grad school acting class" contractions where she was making loud, very obviously childbirth-y sounds. But those loud vocalizations meant he couldn't hear what the mid-wife was saying on the phone. And this is where the new dad had more nerve than brains, shushing his wife so he could hear. Oh boy.
Sterling explains that by this point, his wife was on all fours and the baby's head was out. Despite the dad's panic, the mid-wife calmly instructs him to tell his wife to push, and sure enough, here comes the baby. Ever the helpful storyteller, Sterling hilariously demonstrates for Kelly, Ryan and the audience what it looked like when she assumed that position. Kelly very eagerly took on the role of dad catching the baby. Hilarity ensued. End scene. This is pretty much the funniest moment in morning television of all time ever.
As a c-section mom twice over, I find real tales of childbirth endlessly fascinating and this one didn't disappoint. Kudos to Sterling for keeping it real and to his wife for birthing like a champ and not smacking him upside the head. We need more stories like this to be told so we all know what to expect when we're expecting. And because a little laugh never hurts either.