Hilary Duff Says The 'Lizzie McGuire' Reboot Is No Longer Happening
by Christina Marfice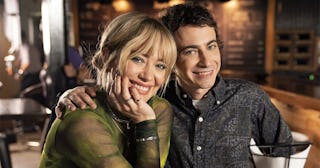 Disney
"Hey now, this is what 2020's made of"
Alas, 2020 has taken yet another good thing from us. Remember when Disney+ announced that it was rebooting an adult version of Lizzie McGuire and teased us with pictures of the whole family back together for filming? Well, after a production shut down and months of rumored disputes about the creative direction of the show, star Hilary Duff has just announced that the reboot is officially canceled. Ugh.
Duff took to Instagram to share the bummer of an update.
"I've been so honored to have the character of Lizzie in my life," Duff wrote. "She has made such a lasting impact on many, including myself. To see the fans' loyalty and love for her, to this day, means so much to me."
Duff went on to hint that the end of the Lizzie McGuire reboot came when she continued to clash with writers, showrunners, and Disney itself. Duff had stated previously that Disney wanted a G-rated reboot, while she was pushing for a more realistic look at Lizzie's life in her 30s, which would include sex and complex relationships. She had also publicly asked for the show to be moved to Hulu, a more adult-content-friendly platform that Disney owns.
"I know the efforts and conversations have been everywhere trying to make a reboot work, but sadly and despite everyone's best efforts, it isn't going to happen," Duff continued. "I want any reboot of Lizzie McGuire to be honest and authentic to who Lizzie would be today. It's what the character deserves. We can all take a moment to mourn the amazing woman she would have been and the adventures we would have taken with her. I'm very sad, but I promise everyone tried their best and the stars just didn't align."
Duff ended her message with a truly perfect sentiment: "Hey now, this is what 2020's made of." We couldn't agree more.
Unfortunately and unsurprisingly, Lizzie McGuire fans are pretty heartbroken at the news. They took to social media to express their disappointment over not getting to see their hero return as an adult.
Although we won't be blessed with the new series, we did get a Lizzie McGuire reunion earlier this year that broke up the quarantine boredom a little bit.
With the series now let go by Disney, we can only hope this frees up Duff to make the kind of content she wants and deserves to. Maybe it won't be Lizzie McGuire exactly, without Disney on board, but we'll still take a series that stars Duff as a 30-something trying to figure out life. Just saying.