The Whole Lizzie McGuire Family Is Back For The Disney+ Reboot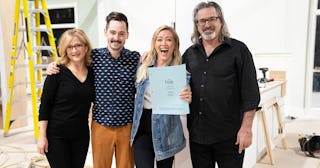 Hilary Duff/Instagram
It wouldn't be Lizzie McGuire without Jo, Sam, and Matt
Millennial women who grew up alongside Hilary Duff as Lizzie McGuire on the Disney channel are already extremely here for the Disney+ reboot of the show, which will be all about Lizzie's life as a 30-something trying to make it in New York City. But now, there's news that has us even more excited to tune in when the series drops: Lizzie's entire original family has signed on to be in the show, too.
That's right: Jo, Sam, and Matt McGuire are all coming back to our TV screens right alongside Lizzie. If strains of, "Hey now, hey now, this is what dreams are made of" are playing in your head, that's the correct reaction.
The announcement came in the form of an Instagram post from Lizzie McGuire herself, AKA Hilary Duff, the show's star. She shared a photo alongside her castmates, together for the first time in 15 years for a script reading. Yep, that's Hallie Todd, who played her mom, Jo; Robert Carradine, who played her dad, Sam; and Jake Thomas, back as a shockingly adult version of Lizzie's little brother Matt. TBH, we're not sure at all how to feel about Matt being a bonafide grown up, but we're gonna roll with it for now.
"We are incredibly excited to bring back one of the most popular Disney Channel series of all time along with some beloved and familiar faces," Disney+ president of content and marketing Ricky Strauss said in a statement. "With Terri at the helm and Hilary, Hallie, Robert, and Jake back after all these years, it's our honor to welcome the McGuire family into the Disney+ family."
The Terri he's referring to is Terri Minsky, who worked as the showrunner on the original series. So Lizzie's family won't be the only familiar faces back for the reboot — there are some behind the scenes as well.
According to past reports about the reboot, it will feature Lizzie McGuire as an adult in NYC, working her dream job as a fancy decorator's apprentice, with a dream boyfriend who owns a hot SoHo restaurant. But a classic aspect of the original series will be back — and will probably get grownup Lizzie into just as much trouble as it did when she was in middle school.
"She is still dealing with that 13-year-old no-holds-barred animated Lizzie that's constantly babbling in her adult Lizzie head," Duff has shared about the reboot. "So she has to deal with that. But I think that's what's going to make it really special."
Now if only they could get teenage Aaron Carter back on the show. Then it would be perfect.