Lizzo And Ariana Grande's 'Good As Hell' Remix Is Somehow Even More Empowering
by Madison Vanderberg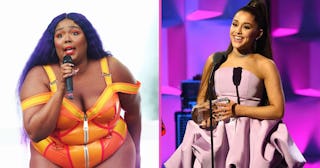 Gary Miller/Kevin Mazur/Getty
Lizzo and Ariana Grande link up for a remix to Lizzo's 2016 sleeper hit "Good As Hell"
Lizzo's "Good As Hell" is a self-love power anthem which probably explains why it's been featured in literally every movie since 2016 (A Bad Moms Christmas, I Feel Pretty, Blockers, to name a few), but "Good As Hell" just got a second life, because Ariana Grande lent her voice to the remix, and suddenly the song is this dueling diva epic girl power anthem bonanza.
"I got a bottle of tequila and a remix for you," Lizzo announced on social media, to which Ariana responded, "the most fun thank you @lizzobeeating for having me on this remix !! i love you, your energy and this record so so much."
This is the song you put on when you're doing chores at the house by yourself, and the mop is your mic, and you're just like, Yas Kween-ing yourself.
"He better know my worth / there's so much that I deserve," Grande belts over the new lyrics. "But I ain't worry now / imma let my hair down / he been tryin' it but not today."
And when the women come together to sing, "If he don't love you anymore / just walk your fine ass out the door," the harmonies will give you chills. Empowering chills.
Lizzo dropped "Good As Hell" in 2016, but like her other blockbuster song "Truth Hurts," the song didn't gain traction until 2019 when Lizzo became the pop culture icon she is right now. Lizzo even went on a Good As Hell Tour in 2017, and truly, we were all sleeping on Lizzo for too damn long.
As for the remix, it's already number three on the iTunes Top 10 Song Charts for the U.S. and it's only been out for a day. The song comes in third place just after Selena Gomez's two new songs "Lose You To Love Me" and "Look At Her Now."
Naturally, when Lizzo and Ariana dropped the song — Twitter imploded.
The song is so influential that even Presidential hopeful Bernie Sanders got in on the action. When Ariana tweeted, "baby how u feelin" (one of the lyrics in the song), Bernie retweeted her and wrote, "Ready to fight for Medicare for All," and lol.
This song is empowering, badass, and apparently, vital to health care reform. This song could single-handedly bring back VH1 Divas, if we're being honest.
Stream or download "Good As Hell" featuring Ariana Grande here.
This article was originally published on