Cookie Monster And Lizzo Just Revamped 'Truth Hurts' On Twitter
by Madison Vanderberg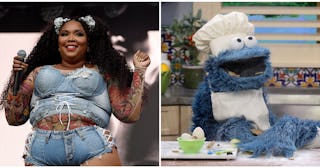 Kevin Mazur/Getty Images for Roc Nation/Alexander Tamargo/Getty Images
Lizzo and Cookie Monster collab on impromptu "Truth Hurts" remix
Lizzo is the best celebrity. She's talented, funny, badass, and apparently an honoree member of Sesame Street. Lizzo's crowd-pleasing banger "Truth Hurts" is so popular that even Cookie Monster is a fan. On September 10, 2019, the Cookie Monster tweeted (lol) "Me just took a DNA test turns out me 100% cookies…" which is a play on the iconic Lizzo lyrics, "I just took a DNA test, turns out I'm 100% that bitch."
At first it was just like, "Oh the millennial that runs Cookie Monster's social media account is a Lizzo fan," but then Lizzo responded to the Sesame Street character with her own cookie-inspired lyrical changes and it became a whole thing.
Lizzo rewrote the lyrics, "Even when I'm crying crazy/Yeah, I got boy problems, that's the human in me/Bling bling, then I solve 'em, that's the goddess in me" to, "Even when my crumble crazy/Me got shortbread problems that's the monster in me/Nom nom, then me eat em that's the cookie in me."
One fan asked her how long it took to come up with the cookie lyrics, to which Lizzo said, "Like 2 seconds lol… the last part was the hardest."
Fans raced in to complete the lyrics…
"You could have had a big batch, gooey middle/Let you have a nibble on it, just a little/You're 'posed to save me scones, but you ate the whole pack/And that's the sound, of me just crunching a snack."
…And Lizzo shared the best on Instagram.
https://www.instagram.com/p/B2PzMLdh1WN/
There is a long tradition of celebrities doing segments on Sesame Street, so they need to invite our queen Lizzo on for a collab. At this point, the Cookie Monster "Truth Hurts" remix is practically writing itself and Lizzo said that she really wants to "twerk w/ Big Bird."
In other collab news, Lizzo and Rihanna have been fangirling hard for one another. Rihanna told Entertainment Tonight that she loves Lizzo so much she would collab with her on setting up the lights for an interview and then Lizzo sealed the deal and said she was so desperate to work with Rihanna that she "would sing the bass drum in a Rihanna fart just to make this collab happen."
Now all we have to do is will a Lizzo x Cookie Monster and a Lizzo x Rihanna collab into existence and we're good to go.
This article was originally published on