Lizzo Surprising Her Mom With A Car Is The Content We Need Right Now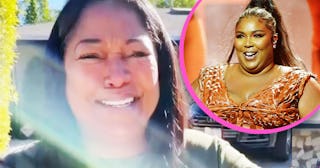 Lizzo/Instagram and Jim Dyson/Getty
In a world of Karens, be a Lizzo
This year has seen pandemics, wacko election theories, an endless supply of Karens, charcuterie chalets, and… whatever we're calling The Tiger King. But now, to make your holiday week a little more wholesome, Lizzo uploaded a video to Instagram of her surprising her mom with a new car for Christmas.
The singer/flutist explained the meaning behind her incredibly generous gift to her mom. "I remember crying in my car when my daddy passed," the caption reads. "I couldn't do it for my dad so I'ma make sure I spoil Mama," Lizzo wrote. "No job, no money, nowhere to live, wishing I could one day provide for my family."
The "Truth Hurts" singer explained in her Instagram caption how she's always hoped to use her success to help provide for her family. "Got my mommy a brand new Audi for Xmas," she says. Hell yes.
Lizzo's friends seemed to delight in the video, with Shaun Ross writing, "She was so happy before she even recognized it was an Audi and I love that so much'. Singer SZA commented, saying, 'Awwww!!! Love her and yeewwwww'. Christian Siriano, who has dressed Lizzo for red carpets, wrote, "Yessssss.'
This isn't the first time Lizzo featured her mother on her Instagram feed – a post from March features the pair dancing. 'Been in Detroit w family,' the caption reads. 'This makes me smile. Hope u smiling too'.
Lizzo's father died in 2009. On the 10th anniversary of his death in 2019, she wrote on Instagram that while she quit singing for a time after he died, she was "the superstar he worked so hard for [her] to become." In October of this year, Lizzo graced her first cover of Vogue.
In 2017, she remembered him lovingly, calling him her "hero."
But back to this year's car video: at the end, Lizzo's mom says "You see these things on television but you never expect these things to happen to yourself." Excuse us, but someone is chopping onions in here, because we're all tearing up.
Maybe this post should end the way Lizzo finished her Instagram post: "Happy holidays y'all."