Lizzo's Iconic VMA Performance Was All About Loving Yourself
by Christina Marfice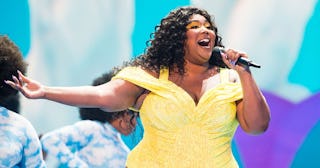 John Shearer/Getty
Lizzo stayed true to herself and her message of self love in an instantly iconic performance at the VMAs
If you aren't on the Lizzo train yet, what the heck are you even doing? The body-positive singer and rapper has been absolutely taking the world by storm since the release of her third album, Cuz I Love You, and if you ask me, it is about time. She's an icon, and she deserves to be recognized as such.
Along the way, Lizzo has been preaching something she's always believed in: That everyone should love themselves so hard, regardless of what their body looks like, how their hair is, what color their skin might be — none of that matters, because you just gotta love yourself, whatever you're working with. If anyone can make a nation believe that, it's Lizzo. Just take her instantly iconic performance at the VMAs if you need proof.
At the show, Lizzo took the stage (in front of a giant, inflatable, thong-clad butt, no less) to perform a medley of her hits, starting with the song every woman (and many men) has had on repeat all summer, "Truth Hurts." Just tell me you can hear that opening line — "Why men great til they gotta be great?" — and not scream-sing along.
After a verse or two, she transitions into her incredible self-love anthem, "Good As Hell." And it is absolutely good as hell. But what's even better is when Lizzo takes a break to address the audience with the message she is on this Earth to spread.
"Let me talk to y'all for a second," she says, right after taking a long drink from a jewel-encrusted bottle of tequila onstage because she is #goals in every sense of the word.
"I'm tired of the bullshit," she continues. "And I don't have to know your story to know that you're tired of the bullshit too. It's so hard trying to love yourself in a world that doesn't love you back. So I want to take this opportunity right now to just feel good as hell! Because you deserve to feel good as hell!"
Yes. Yes we do. Excuse me for a moment, there's something in my eye.
We don't even deserve Lizzo. She's the body-positive queen we need to inspire us to love ourselves exactly as much as we deserve to: As freaking hard as we can love ourselves. Thanks to Lizzo for telling us that, over and over, until we finally know how true it is.
This article was originally published on