'Loki' Star Shows Off Epic Breastfeeding-Friendly Superhero Costume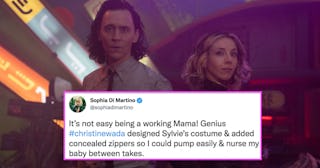 Disney Plus
The Loki actor took to social media to thank the series costume designer for creating a costume she could breastfeed in
Society: making things tough for mamas since the beginning of time. Women: getting things done since forever. Actor Sophia Di Martino, star of Loki on Disney Plus and a new mama, shared an Instagram pic of her costume for Slyvie, an alternate-reality version of Loki on the streaming series. At first glance, it seems like a normal-enough costume, but on closer look, her superhero getup comes with a secret breastfeeding hack and all of Hollywood should be listening.
While the caption told fans "it's not easy being a working Mama," Di Martino said costume designer Christine Wada's skills allowed her to modify the costume, allowing the new mum to breast feed between scenes. The actor appreciated how the suit "made it possible for me to do my job AND be a parent."
"Wada designed Sylvie's costume and had the genius idea of adding concealed zippers for easy access so that I could use my @elvie pumps easily and nurse my baby between takes," wrote Di Martino.
In the photo, Di Martino showed fans how the two breast panels move to reveal her bra, allowing for easier access. The actress said she's "forever grateful" for the alteration.
Di Martino often makes sure to shout out the people who work behind the scenes; recently the actor posted a pic of her practicing sword drills with her stunt double.
Di Martino recently told Variety that she was "heavily pregnant" when she first auditioned for the role of Slyvie.
"It was the shortest casting experience I think I've ever had," she told the magazine. "I did an audition tape with a very short scene. I wasn't asked to do it again, and I couldn't meet anyone because I was heavily pregnant at the time and I couldn't travel. Tom was in the U.S., everyone else was in the U.S. So we didn't get to screen test or anything. So I just got the job on the back of this tape, which never happens, and especially with a job like this! It was extremely quick and quite surprising to all involved. Me and my agent were both like, 'Really? Are you sure? This is crazy? Okay, fine! We'll do it! We're in!'"
After she got the job, Di Martino had to adhere to Marvel Studios' legendary mum's-the-word policy. The actor told Variety that while she can certainly keep a secret, being able to talk about the show is exciting.
"I got this job in September 2019 and only today is the first day I can talk about Sylvie," she says. "So it's been quite hard!"
The actor started training for Loki in February 2020, after only "4 months postpartum," she shared in an Instagram pic from her first day at the Marvel Studios stunt gym.
"The very beginning of my @officialloki journey," she captioned the throwback in early June. "Hopeful, naïve and VERY unfit! The incredible @sarah__irwin and the rest of the amazing stunt team had quite a job on their hands getting me into shape!"
As for her breastfeeding-friendly supersuit, reactions on Twitter were super-supportive.
"Is there an Emmy category for this? I mean, Sylvie's costume is brilliant before you find that out," one person Twitted. "[Christine Wada] deserves high praise."
"I'm not exaggerating even a little bit when I say that reading this made my morning brighter," another posted. "SUPPORT WORKING MOMS whenever you have the opportunity. #ChristineWada is wonderful."
"It's great to hear about @sophiadimartino's time as a working mum on [Loki] with small adjustments being made to ensure a more positive experience for a parent /carer working in film & TV," another fan wrote.
Another fan pointed out that we can all be a Christine Wada to working mamas (and papas).
"Support working moms and be the #christinewada at YOUR job/company," the tweet reads. "More of this please." Exactly.