People Are Not Happy With What's Inside The Holiday's 'Hottest Toy'
by Julie Scagell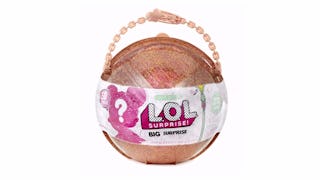 Image via Amazon
These LOL Big Surprise toys are getting some very bad reviews
Every holiday season there is some "must have" toy that every kid wants and no parent can find. Marketers and toy manufacturers over-hype them and parents feel compelled to buy them because, god forbid, their kid will be the only one without (insert cheap plastic animal thingy here). There were the Hatchimals, Lego Minecraft sets, Furbies, and who can forget the Zhu-Zhu pets (curse them, their high pitched squeals, and the tiny cars they drove in on).
But this year's hottest toy is getting some bad press to go along with its ridiculous price tag and parents are warning others not to fall for the hype.
The super ultra mega limited edition L.O.L. Big Surprise is essentially a big half-ball that resembles a Bosu ball but instead of getting flat abs parents just get a flat wallet. The ball, selling on Amazon for $140, opens and 50 smaller balls are inside, which include tiny dolls, doll clothes, doll shoes and doll accessories. Basically, once all is said and done, its like a bunch of Polly Pockets communes exploded in your living room.
If you haven't seen how one works, here is a 13 minute video of one being unwrapped. Grab a shot of tequila, you'll need one.
The "Big Surprise" also contains bath bombs that also have toys hidden inside but are only revealed once the bombs dissolve in water, because in addition to your living room being covered with enough plastic to clog a landfill your bathtub will be trashed too. Merry fucking Christmas.
Surprisingly, parents are taking to social media and the review sections of seller websites to warn parents that setting $60-$140 on fire may be a better investment than purchasing one of these for your kid.
The reviews on their Instagram page seem to echo this sentiment.
Apparently in addition to the quality of the product, once you collect one Surprise Ball, you essentially have most all of the items they produce, regardless of the "limited edition" title. It seems like plugging in a bunch of quarters into a gumball machine and wrapping them in plastic may get parents the same results at a fraction of the cost.
The toys are already nearly impossible to buy in stores, with shops like Walmart and Target sold out. But fear not, because some people are assholes if you still have to have the toy, you can find them on eBay for the low low price of $700.
This article was originally published on