Looking For Some Real Sports Heroes For Your Kids? Try These.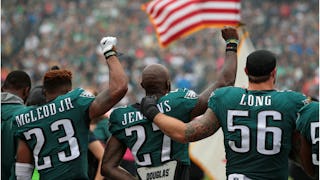 Rich Schultz / Getty Images
The question of whether sports figures should be role models for our kids has been hotly debated for years. Some feel that putting professional athletes on a pedestal and expecting them to serve as examples to kids can only result in disillusionment when they inevitably fall from that pedestal. Others feel that parents and community leaders should be who kids look to for inspiration, not celebrity athletes who make far too much money and live extraordinary lives.
I can see these points. I can also see that tens of millions of kids play and watch sports. It's only natural to look up to those who have excelled at something you're interested in, and to admire those who exhibit hard work and determination.
Rather than dismiss the idea of athletes as role models altogether, our family looks for excellence and character on and off the field. Whether they feel inspired by a librarian or a linebacker, I want my kids to look at how someone lives their lives both inside and outside their profession and choose whom to admire accordingly.
In that spirit, here are some professional sports figures our kids can look to for inspiration:
Anthony Rizzo, First Baseman for the Chicago Cubs
Anthony Rizzo recently attended the vigil for the victims of the school shooting at Marjory Stoneman Douglas High School in Parkland, Florida, where the Cubs first baseman graduated in 2007. He had been coached by Aaron Feis, the assistant football coach slain in the massacre. Rizzo had recently donated $150,000 toward new stadium lights at the school, and his touching response to the shooting is worth a watch with your kids. Rizzo is also a cancer survivor, diagnosed in 2008 with Hodgkin lymphoma, which has since gone into remission. He is known as one of the most generous and philanthropic athletes around. His Anthony Rizzo Foundation endows two funds with a $3.5 million commitment to support cancer patients and their families.
Patrick Peterson, Cornerback for the Arizona Cardinals
Patrick Peterson is often referred to as the most charitable player in the NFL. In 2013, he founded the organization "Foundation for Success," which provides low-income youth with opportunities and resources to help them reach their potential. He hosts fundraisers and outreach events multiple times a year, and has dedicated a portion of this foundation to providing books and safe reading environments for at-risk kids in addition to literacy events. He helps natural disaster victims. He visits people in the hospital. He takes service trips to Haiti. He takes at-risk and low-income families shopping. The dude is solidly generous in every way.
Serena Williams, Tennis Goddess
Not only is she the greatest female tennis player in the world, Serena Williams is also a pretty stellar human being off the court. She has received multiple awards for her charity work, including her work fighting breast cancer, and her support of Big Brothers Big Sisters. She's a UNICEF Goodwill Ambassador and helps communities in rural Uganda and Kenya with education and anti-poverty projects. Having lost a sister to gun violence, Williams also founded the Caliber Foundation, which supports individuals and communities who have been affected by gun violence. Oh yeah, and she also funds a national scholarship called Beyond the Boroughs. Go, goddess.
Chris Long – Defensive End for Philadelphia Eagles
When Chris Long's teammate and friend Malcolm Jenkins raised his fist during the national anthem to protest social injustice last year, Long wrapped his arm around him and stood by his side. "I've said before that I'll never kneel for an anthem because the flag means something different for everybody in this country," said Long, "but I support my peers. If you don't see why you need allies for people that are fighting for equality right now, I don't think you'll ever see it. Malcolm is a leader and I'm here to show support as a white athlete." Right on.
And to sweeten our love for Long a little longer, he also put his money where his mouth is by donating his entire $1 million salary for last season to educational equity initiatives in the three cities he's played—Philadelphia, Boston, and St. Louis—in his 10-year pro football career.
Misty Copeland, Ballerina
One of the things we like to see in role models for our kids is perseverance against the odds. Misty Copeland didn't start dancing until she was 13, and was rejected over and over by dance companies for being too old or "not having the right body for a ballerina." But in June of 2015, she became the first female African American principal dancer at the American Ballet Theatre. Copeland spends her free time helping kids at local clubs in the New York area discover ballet and work toward their dreams. President Obama appointed her to the President's Council of Fitness, Sports, and Nutrition in 2014. She also co-wrote the award-winning children's book, Firebird.
Albert Pujols, First Baseman for the Los Angeles Angels
If kids with special needs are close to your heart, then Albert Pujols will be too. Pujols immigrated to the U.S. from the Dominican Repulbic at age 16. He is now a devout family man with a passion for baseball, faith, and helping others. A father of four, including a child with Down syndrome, he founded the Pujols Family Foundation "to honor God and strengthen families," "to improve the standard of living and quality of life for impoverished people in the Dominican Republic through education, medical relief and tangible goods" and "to provide extraordinary experiences for children with disabilities and/or life threatening illnesses." Pujols is also an extraordinarily decorated player, having won league MVP three times.
J.J. Watt, Defensive End for the Houston Texans
At this year's Super Bowl, J.J. Watt was named as the Walter Payton Man of the Year, an honor given to one NFL player who exhibits excellence on and off the field. Watt's foundation raised $37 million in 19 days for the victims of Hurricane Harvey. $37 million. In 19 days. In his acceptance speech, he said, "At the end of my life, if I'm remembered as a football player and a good football player and that's all I'm remembered for, then I did a poor job in my life. When I go to my grave I want to be remembered as a guy who helped people out and who tried to do as much as he could off the field to be the best man he could be." Good words to share with your kids.
Colin Kaepernick, Former Quarterback for the San Francisco 49ers
Yes, I know. Probably the most controversial athlete to ever grace our television screens. But this is a man who sacrificed a lucrative career for a cause he believes in and persevered in the face of tremendous hatred. And even if you take issue with his methods, you have to give the guy credit for consulting with a veteran and altering his protest to make it more respectful. He also puts his money and time where his mouth is. He recently donated the final amount of a million dollar pledge to 30+ organizations working in oppressed communities. He also founded Know Your Rights, a free campaign for youth to raise awareness on higher education, self-empowerment, and how to properly interact with law enforcement in various scenarios. Kaepernick may have pissed a lot of people off, but he's taken an active role in fighting injustice and done more to spark conversations about racism and police brutality than anyone else I can think of.
Pete Carroll, Head Coach of the Seattle Seahawks
If positive leadership is something you want your kids to see, look no further that Pete Carroll. Known for his upbeat coaching style and almost superhuman optimistic attitude on life, Carroll consciously cultivates a can-do culture among his players, coaches, and everyone else he comes into contact with. Off the field, he founded A Better L.A. when he coached at U.S.C, and A Better Seattle when he started coaching the Seahawks—organizations that help reduce and prevent gang violence and provide opportunities for at-risk youth.
(Full disclosure: I also have a personal reason for putting Coach Carroll on this list. I wrote an article on my blog a few years ago about how the Seahawks' coaching philosophies can be applied to parenting. Pete Carroll not only read my post, he called me on the phone—the day before a big playoff game—to thank me for the article and to chat about it. What?!? Seriously, a Genuinely. Cool. Guy.)
I could have added dozens more sports figures to this list, so it is by no means exhaustive. And naturally, our kids need to know that no human being is perfect. But if our kids are going to look up to athletes anyway, let's teach them to look for heroes who are using their fame for good, and to direct their admiration to those who dedicate their time and money to bettering the world.