Lori Loughlin And Felicity Huffman Among 40 Charged In College Exam Cheating Scheme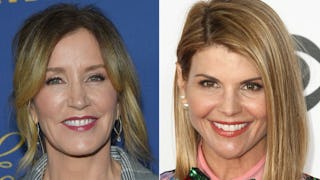 Images via LISA O'CONNOR and Tommaso Boddi / AFP) (Photo credit should read LISA O'CONNOR,TOMMASO BODDI/AFP/Getty Images
Loughlin and Huffman are among a group of parents, including CEOs, who allegedly paid to get their kids admitted to elite schools based on false claims
A $25 million scheme involving decoy exam takers and fake athletic scholarships was recently uncovered by the FBI and among the over 40 people indicted are actresses Lori Loughlin and Felicity Huffman. Both were charged with conspiracy to commit mail fraud and honest services fraud in their alleged (criminal) efforts to get their kids into elite schools.
The alleged scam involved, in part, getting kids into competitive universities as recruited athletes, even if they didn't play the sport they were supposedly being recruited for.
Loughlin, who played Aunt Becky on Full House and again on Fuller House, and husband, fashion designer Mossimo Giannulli, "agreed to pay bribes totaling $500,000 in exchange for having their two daughters designated as recruits to the USC crew team — despite the fact that they did not participate in crew — thereby facilitating their admission to USC."
Yikes, Aunt Becky.
The scandal also helped prospective students cheat on their college exams with college coaches, some who have also been charged, arranging for someone else to take SAT or ACT exams in place of the potential students themselves.
The 200 pages of charging documents include details on former Desperate Housewives actress Huffman's alleged involvement. The actress "made a purported charitable contribution of $15,000 … to participate in the college entrance exam cheating scheme on behalf of her eldest daughter." She reportedly made arrangements to do the same thing for her younger daughter "before deciding not to do so," according to the documents.
William Rick Singer, founder of a for-profit college preparation business based in Newport Beach, California, is allegedly the person behind the entire scheme. Parents paid him between $15,000 and $75,000 for the privilege of having a decoy test-taker standing in for their own child. Singer also helped prospective students cheat by suggesting they ask for "extended time on the exams, including by having their children purport to have learning disabilities in order to obtain medical documentation that ACT."
The cash was used to bribe Igor Dvorsiky, of Los Angeles, and Lisa "Niki" Williams, of Houston who were both administering exams. They were the individuals who allowed Mark Riddell, who was hired by Singer, to take the tests himself or change the students' answers to test questions. According to the indictment, the money, around $10,000 per test for Riddell, was funneled through a charity account set up by Singer.
Federal prosecutors state that the involved schools include Yale, Stanford, Georgetown and the University of Southern California, among others. "Beginning in or about 2011, and continuing through the present, the defendants — principally individuals whose high-school age children were applying to college — conspired with others to use bribery and other forms of fraud to facilitate their children's admission to colleges and universities in the District of Massachusetts and elsewhere, including Yale University, Stanford University, the University of Texas, the University of Southern California, and the University of Southern California — Los Angeles," the indictment, unsealed today in Boston, reads.
The actresses were caught when agents used secretly recorded phone calls with Huffman and a cooperating witness to implicate her, and both phone calls and emails from Loughlin.
Several CEOs were also indicted in the scandal and some bribes totaled as much as $6 million to get the children of these wealthy individuals into elite schools. The scheme has been going on since 2011 with a total of about $25 million to bribe coaches and university administrators to "designate their children as recruited athletes, or other favored admissions categories."
Rich folks using money to elevate their kids' status is absolutely nothing new, but it's heartening to see this crime be taken as seriously as it should. The thing is, the children of the elite will always do OK in life, and this scandal likely meant some undeserving individuals being admitted to top-notch schools — while other, less connected kids were denied. At least in these few cases, justice is being served.