Lori Loughlin's Facing New Charges In The 'Varsity Blues' College Admissions Scandal
by Cassandra Stone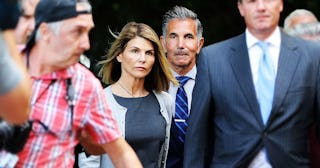 The Boston Globe/Getty
A grand jury added new bribery indictments for Loughlin and others involved in the scandal
Months after the huge college admissions scandal first broke, a grand jury in the District of Massachusetts has just returned additional charges against 11 of the 15 parents charged in the case, including Lori Loughlin and her husband.
The new charges allege that 11 defendants – Lori Loughlin, her husband Mossimo Giannulli, as well as Gamal Abdelaziz, Diane Blake, Todd Blake, Elisabeth Kimmell, William McGlashan, Jr., Marci Palatella, John Wilson, Homayoun Zadeh, and Robert Zangrillo – conspired to commit federal program bribery by bribing employees of the University of Southern California (USC) to facilitate their children's admission.
In exchange for the bribes, employees of the university allegedly designated the defendants' children as athletic recruits – whether their children were involved with said athletics or even possessed the athletic ability required for the sport in question.
The charges announced Tuesday were on top of charges brought against 15 parents by the U.S. Attorney's Office in Boston earlier this year. Loughlin and her husband were initially charged with conspiracy to commit mail fraud and money laundering in connection with the college admissions scandal that hit the news last month. The defendants were funneling funds through a fake charity and for-profit corporation.
Those charges alone can come with a sentence of up to 20 years in prison – which would pretty much secure Aunt Becky a jail cell for a significant amount of time if she's found guilty. According to PEOPLE, Loughlin is surely feeling the stress. A source tells the outlet that she's not optimistic about her odds.
"They feel like this is David versus Goliath. How do you go up against the federal government, when the government has decided to make an example out of you? How can you possibly move forward from this?" the source claims. "This stress is about to break them."
In addition to being the face of a nationwide scandal, Loughlin has also lost her livelihood. For years, she's been a regular face on Hallmark, starring in the TV movies Garage Sale Mystery and the series When Calls The Heart (which is actually a very adorable, binge-able show and palate cleanser — just FYI).
The channel released a statement to The Hollywood Reporter explaining that they were cutting ties with the actress in light of the scandal and her alleged involvement. They also re-worked the show so that even scenes she previously filmed for the most recent season were not included in the program.
"We are saddened by the recent news surrounding the college admissions allegations," the company said. "We are no longer working with Lori Loughlin and have stopped the development of all productions that air on the Crown Media Family Network channels involving Lori Loughlin including Garage Sale Mysteries, an independent third party production."
Felicity Huffman, who was sentenced earlier this year, is currently serving her two weeks in prison.
There's no official date for Loughlin's trial. Now that the new charges are official, it's unlikely she and her husband will be able to avoid prison time.