Adorable Little Girl With Unique Name Ends Up With 'Loser' Birthday Cake
by Madison Vanderberg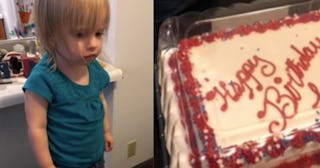 Melin Jones/Facebook
Here's how a little girl with a unique nickname ended up with a "Happy Birthday Loser" cake
The only thing better than an awesome birthday cake, is an awesome birthday cake fail. Baking fails, in general, are so delightful that there's an entire Netflix show dedicated to them, which is why when we saw that a Walmart bakery gave a little girl a "Happy Birthday Loser" cake, we couldn't help but LOL.
Two-year-old Liz's mom Melin Jones shared a photo of her daughter on her birthday with her "loser" cake and some backstory on how Walmart's bakery department sent her home with this ridiculous confection.
"Liz's nickname is Lizard," Jones explained on Facebook. "I got her a cake at Walmart & asked the lady to write 'Happy Birthday Lizard.' I did not look at it…As I'm unloading the car I look quickly at it and notice the lady didn't hear 'Lizard' she heard 'Loser.'"
"So here's my baby & her loser cake. It's funny now but I was maddddd," Jones continued.
Liz's face is so perfect in this photo, it's like a meme waiting to happen.
One person even stole the image and claimed that Liz was their niece, which — TBH, is not even a meme, it's just super weird.
If "Happy Birthday Loser" makes you giggle, you can actually buy a pin made to look like Liz's "loser" cake.
In the end, Liz's mom, of course, bought her a new cake.
"For the record — she did get a new cake," Jones wrote. "No, she couldn't read & no we didn't tell her what it said (she wouldn't have understood anyway) but I couldn't let her have a loser birthday cake…We paid for a new cake. It was my fault for not checking it when it was handed to me and not the lady who heard me wrong. We made sure to just use her name on the second cake."
Here she is with her redo cake, which looks delicious and not at all accidentally insulting.
In terms of birthday cake fails, this one is up there in the top 10.
A viral Elsa from Frozen cake fail went viral in 2015, because the "Elsa" cake looked more like Donatella Versace than the Disney heroine.
Last year, a mom ordered a cake for her son's graduation that was supposed to read, "Congrats Jacob! Summa Cum Laude Class of 2018," to honor the fact that he graduated "Summa Cum Laude." Publix grocery store's bakery department registered "Cum" — the Latin word for "with" — as "profane language" and just refused to print it on the cake altogether.
There was also the case of the "vagina cake," which wasn't so much a fail, but rather, a bakery made a beautiful cake that was supposed to look like pink geode rocks, but instead it just looked like a vagina — a really beautiful, diamond-encrusted vagina with gold leaf edges.
See, that's the fun thing about cakes — they taste great and you also never know what they might say or even look like.
This article was originally published on