These Comics Perfectly Capture The Struggles Of Being An Adult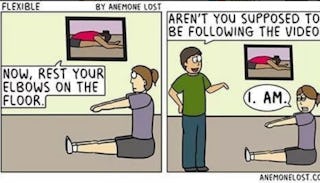 Via Anemone Lost/Instagram
Being a grown up is hard
Listen, being a grown up can be hard. Everyone who's a grownup knows that. Even most people who aren't grownups know that. And one of the best ways to handle things that are hard (especially when there's really nothing you can do about them) is to make a big drink and try your best laugh about how hard they can be.
Enter Canadian artist Caitlin Quijano. Quijano is the genius behind Lost Anemone Comics, which turn all the hardest parts of adulting into cute little comic strips that will probably make you feel at least a little better about the days when you're just not nailing the whole grownup thing.
From home ownership to paying bills, Quijano's comics capture exactly how it feels to try to figure out life and the millions of challenges it throws at everyone every damn day.
Her husband helps her out with maintaining her social media accounts, and he also makes appearances in comic strips about the nuances of grown up relationships, like never, ever watching that Netflix show you're bingeing together without your S.O.
"I'm inspired by the ups and downs of 20-something life, and exploring what it means to be a 'real adult,'" Quijano said in an interview with The Huffington Post last year, after her comics started going semi-viral on Facebook. "Mostly, I just try to draw comics that take an honest look at my life. I figure that if I'm going through something or feeling something, there's probably someone else who is, too."
It's totally true — her comics are relatable AF, even to adults who are past the 20-something stage Quijano covers in her illustrations. Adulting is hard for everyone, so we all relate.
(This one, though — my life as a freelance writer).
Quijano also manages to perfectly capture things that aren't necessarily exclusive to adults, but still ring true with humans in general, like texting anxiety:
And then there's her take on breaking into adult life for the first time, and you might just want to frame this one for your kids' rooms so they have an idea of what's waiting for them on the other side:
Check out more of Quijano's work on her Facebook or Instagram.