Awww: Family Gets Christmas Surprise When Lost Cat Comes Home After 7 Years
by Elizabeth Licata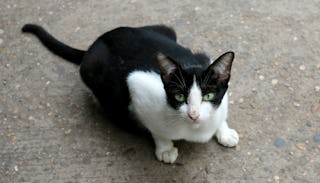 A family's lost cat went missing seven years ago, but this Christmas they got a fantastic surprise when he turned up again, alive and well.
Seven years ago, 11-year-old Elena Hanke's beloved pet cat Miko went missing in Berlin. She and her family looked all over for him, but they never found him. She must have been devastated. It's a very sad story, and a lot of families can relate to the pain of losing a beloved pet. But this Christmas, the now 18-year-old Elena got the best and most surprising gift of all when Miko came back, alive and well.
According to The Local, Miko is a black and white cat, and the Hankes luckily chose to have him micro-chipped before he went missing in 2008. That microchip is what eventually brought him back home, even though it took seven years for it to happen.
Miko is assumed to have been living alone on the streets in Berlin the whole time, though of course he is not talking about his adventures over the past few years. He was just recently picked up by an animal rescue group in Berlin and brought to a local veterinarian's office. While checking the cat's health, the vet scanned for a microchip. One imagines that it's always exciting when a vet finds a microchip in that situation, because it means someone's lost cat has been found and will be reunited with a worried family. Normally, however, a veterinarian does not discover that the cat in question went missing nearly a decade earlier, and this discovery was even more exciting because it happened over Christmas.
"They learned on Christmas day that their cat Miko had been found — seven years later," the organization that found Miko said in a statement.
Miko was picked up only a couple miles from his family's home, and the veterinarian said that he was a little bit too thin, but otherwise in good health. He'll presumably put the weight back on now, because that is one cat that will be getting all the treats he wants for a while.
The family was obviously overjoyed and extremely surprised to hear that Miko was alive and that they'd be getting him back on Christmas morning. Elena Hanke is now 18, and she was thrilled to see her cat again.
Miko's story is so sweet that it sounds like it has the makings of a pretty aww-inducing Disney movie. The vet said Miko was found in good health, so hopefully he will have many more years together with his family than he had out on the streets of Berlin.
In addition to being sweet as heck, this story is also a very good reminder that everyone should have their pets micro-chipped in case they get lost. Without a microchip, Miko might have been found but he would never have been returned to his family.
Cats can be furry little escape artists, and even the most doting and attentive of families can find themselves putting "Lost Pet" posters around their neighborhood. An identification microchip can make it a lot more likely that a missing pet will be seen again, even if it takes seven years for that to happen.