These Wines Are Fu*king Perfect For Your Foul-Mouthed Friends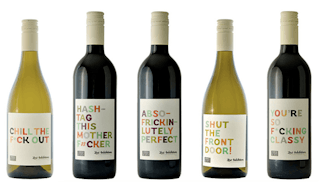 Image via Lost Inhibitions
Lost Inhibitions wines are your new go-to gift for friends who fu*king love to swear
We have a fantastic gift for that special person in your life not content to simply say, "that's great news" when you tell them something good. Instead, it's "that's fucking fantastic, let's fucking celebrate!" And you can, by drinking these amazing wines with labels that will touch your foul-mouthed friends' hearts.
From the wine supplier Church and State, Lost Inhibitions wines have labels that will make your uptight mother-in-law blush. Imagine toting a bottle of one of these classy-ass vintages to her fancy Christmas dinner.
I would love to give a handful of annoying relatives a whole case of Kiss My Ass white wine, how about ya'll? You say passive-aggressive, I say fun times! It's important to note, however, that if you order by the case online the assortment of labels you get will be a lovely surprise. There are more than 200 in the series, so each case is super fucking unique.
The brand features tons of labels that are basically soundbites from a wild and swear-y night out with girlfriends where you delete more photos than you post. Because Instagram does not need to know that you danced so hard half your left eyebrow melted off. But you were really nice to that one douchey bartender, so pour out a glass of Polite As Fuck to celebrate the occasion!
There are labels fitting for pretty much any situation, including date night.
Sounds like all the sweet nothings I whisper to my husband on that special evening every six months when we go out and I actually shave my legs. Romantic as fuck.
And our personal favorite.
The winery is located in Canada, with some U.S. stores now selling the product. You can contact info@lostinhibitionswine.com to find a retailer near you, or see if you can buy them online depending on what state you're in.
These wines are what we need in life, because beautiful labels with gorgeous script and fields of wild horses riding off into the sunset don't really fucking fit into our crazy lives. It's so nice that a winery finally gets us. Happy sipping!
Or guzzling. We don't judge.
[free_ebook]
This article was originally published on