These 'Alternatives To Resting Bitch Face' Plates Are All We Need Right Now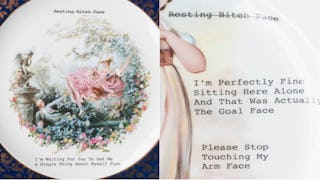 Image via Etsy/Lou Brown Vintage
This custom china will have you howling with laughter and saying, 'Same'
Do you ever feel like you say the same thing over and over and no one listens? Do you wish there was a way to really get your message across, say, by writing "Fuck this shit" on some nice china and serving it to your mother-in-law over Sunday dinner?
Well, now you can.
Etsy shop owner Lou Brown Vintage has taken every thought you've ever felt inside and put them onto beautifully patterned dish-ware. Creator Anna Eidt from Peterborough, Canada is "turning dusty old china into wall decor with sass," and once you see her pieces you'll be "accidentally" breaking all your plates and stocking up.
My personal favorite is a new line called, "Alternatives to Resting Bitch Face," which is a "collaboration of feminist rage china" by Lou Brown Vintage and McSweeney's writer Susan Harlan. There are many alternatives to choose from, including but not limited to, ""If You Interrupt Me I Will Chop Off Your Head Face," "Your Defensiveness Is Boring To Me Face," "I Need A Cocktail And Possibly Three Face," and the ever classic, "Absolutely Not Not Even Maybe Face," uttered by every mother on the planet at least three times a day.
Eidt has been "turning your grandma's china into unexpected, unrepentant, and sometimes subversive wall art for everyone you know," since 2014. According to her Facebook page, the "vintage plates and saucers showcase reproductions of my original paintings with a few choice words." The plates can be used as, well, plates, or hung as decorative wall art. They come with hangers included and are sourced from all over Ontario and Nova Scotia.
"I paint animals on some plates by hand, and then photograph, edit, print, cut, smooth, and bake the images onto more plates as decals to make a selection of items that is more affordable. The words are also applied using my own waterslide decals. It takes forever! And I love it!" she writes.
She also has several other pieces available in addition to the "Alternatives" line and one is as amazing as the next.
These would be the perfect gift for all the hilarious and sassy women in your life or as a present to ourselves for the million times we've been asked to "smile" or to "turn that frown upside down." Resting Bitch Faces, unite.
This article was originally published on