Louis Tomlinson Helps 83-Year-Old Widower Fulfill Bucket List In Tear-Jerker Video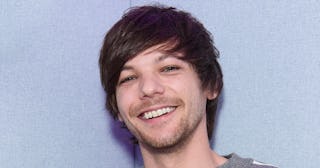 Joe Maher/Getty
#LouisAndRichard are the best friends we didn't know we needed to see (and sob over)
Grab you tissues, because it's about to get incredibly dusty up in here. Louis Tomlinson of One Direction shared a heartwarming video that shows him helping 83-year-old widower, Richard, check items off his bucket list in the sweetest way ever.
Tomlinson has seen his own fair share of loss — his mom, Johanna Deaken, lost her battle with leukemia the same year Richard lost his wife, Pat, to Alzheimer's. Just last month, Tomlinson also tragically lost his younger sister due to a suspected heart attack at just 18 years old. Both men have seen their fair share of heartache, which adds a touching layer to this already emotional experience.
Tomlinson announced his latest project with Richard on Instagram:
"A month or so ago I met an amazing man called Richard," he shares. "He had a few things he wanted to do so I thought I'd help him out." And help him, he did.
What happens next is simply too sweet to describe, so just go ahead and grab that tissue.
In the video, Richard starts by saying that "you might as well make the best of what you got," after the loss of his beloved wife. He says he still talks to her every day, "even though she's not here."
Tomlinson was also grieving the loss of his mother around the same time Richard was grieving the loss of Pat. "It hit us hard," Tomlinson says of losing his mother to cancer. The two men strike up and immediate friendship, and it's a delight to watch.
In the video you see Tomlinson and Richard support each other while working to fulfill Richard's bucket list. The two of them fly a helicopter, race cars, get a tattoo, and ride a rollercoaster together. And it's the cutest freaking thing on the planet.
One thing that really stands out about this video is that it's a reminder that we don't need to "other" old people. If we're lucky to live a long, healthy life, we're all going to be old someday. Simply taking time to have a conversation or a memorable experience with a senior citizen can genuinely impact their days and their lives for the better. (Tattoos and helicopter rides are optional and also subjective to the kind of senior you're hanging out with.)
The video ends with Tomlinson bringing Richard on stage during one of his concerts. Tomlinson urges his fans to donate to the Alzheimer Society, Cancer Research UK, and Bluebell Wood Children's Hospice.
Now if you'll excuse me, I need to stop my eyeballs from leaking.