District To Student Athletes: Stand For Anthem Or You Won't Play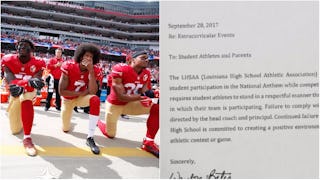 Image via Michael Zagaris/Getty Images/Twitter/Parkway High School
Superintendent tells principals to decide whether students have to stand during the anthem
In the wake of our president turning whether NFL players take a knee during the National Anthem into national news, a Louisiana school district is now following his order of "firing" any athletes who don't stand during the song.
Because nothing says "free country" like being forced to stand during the National Anthem at a high school football game.
Intercept reporter Shaun King shared an image of a memo sent by the principal of Bossier Parish's Parkway High School letting students know they will stand, or face potential dismissal from the team.
The note, signed by Principal Waylon Bates, reads:
"Parkway High School requires student athletes to stand in a respectful manner throughout the National Anthem during any sporting event in which their team is participating," he wrote. "Failure to comply will result in a loss of playing time and/or participation as directed by the head coach and principal. Continued failure to comply will result in removal from the team."
The last line says, "Parkway High School is committed to creating a positive environment for sporting events that is free of disruption to the athletic contest or game."
Because a few students silently kneeling is super disruptive, right? Eye roll.
In a statement provided to Huffpost, Bossier Parish Superintendent Scott Smith clarified the district's policy in regard to student participation in pre-game patriotic displays. "In Bossier Parish, we believe when a student chooses to join and participate on a team, the players and coaches should stand when our National Anthem is played in a show of respect. It is a choice for students to participate in extracurricular activities, not a right, and we at Bossier Schools feel strongly that our teams and organizations should stand in unity to honor our nation's military and veterans."
Well, Superintendent Smith might "feel strongly" about the conditions under which athletes at his school participate in the National Anthem, but the law is pretty clear on this matter — and it's not on his side. In fact, the ACLU is already demonstrating that they'll be willing to fight for students who choose not to stand during the anthem, pointing out the Supreme Court precedent on the matter.
With our president openly referring to NFL players who kneel during the anthem as "sons of bitches" that should lose their jobs, it's easy to become concerned over our freedom and constitutional rights in general. Thankfully, the free press and organizations like the ACLU can help uphold our rights as Americans instead of allowing us to devolve into a dictatorship.
And maybe these high school athletes will respond to this district's decree the way the NFL players did to Trump, by linking arms and refusing to be told whether they should kneel or stand. Because that's not what our country is about.