'Love Is Blind' Is The Perfect Jaw-Dropping Binge
by Sa'iyda Shabazz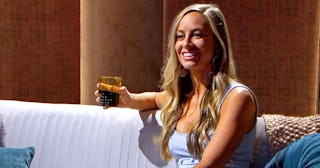 Netflix
If you have social media, chances are you've been hearing about a new show on Netflix. Love Is Blind is currently taking the internet by storm, and for good reason. The dating reality competition is an experiment along the lines of Married at First Sight. A group of men and women have their phones taken away and are put up in a house with the intention of finding the person they want to marry. For the next week, they go on a series of "dates," with the end result being a proposal. Each date happens in windowless pods. But here's the catch — they don't get to see each other. If you think this sounds batshit, you're absolutely right.
What makes Love Is Blind worth binging is how unbelievable it all seems. We can see what's happening when the contestants can't. I'm typically not into reality dating shows, but this was so intriguing I couldn't turn away. While reality dating shows are a bit hard for me to stomach, I do love the idea of people truly falling in love. Before I knew it, I found myself frantically texting my girlfriend and forcing her to watch the show too. In spite of yourself, you get emotionally attached to these people, for better or worse. It's so absolutely banana-pants that I was watching the wedding episode while frantically screaming into a pillow so I didn't wake up my kiddo.
There are six couples that we actually get to see fall in love and get engaged. Some of them are not actually that interesting, TBH. The only interesting thing about Kelly and Kenny is that she won't have sex with him once they get engaged.
Lauren and Cameron are the most perfect couple on the show, hands down. It was clear from the beginning that they were going to end up together. Lauren is black, and her reaction to the realization that Cameron is very likely white is genuine. Neither of them have dated interracially, but their love is so strong, it ultimately doesn't matter. As a black woman who has always been in interracial relationships, watching their love story unfold was affirming. Lauren realizes that her relationship doesn't change her blackness, and Cameron takes great care to be a good ally and support his wife. Everything about the way they fall in love is so fucking pure, you can't help but fall in love with them too. I would die and/or murder for either of them, as would most of the internet.
In 2020, it's kind of ridiculous that there aren't more black people on reality dating shows. There are several black women on the show, two who you only see briefly. But there's only one black man. So Carlton and Diamond are the only black couple on Love Is Blind. Though he never explicitly states how he identifies, Carlton makes it clear that he's had relationships with men in the past. Homophobia can be an issue in the black community, so the fact that Carlton outs himself is a big deal. Because of this, he knows it's not going to be an easy thing to tell Diamond his truth. (Carlton's storyline led to the trending hashtag #bisexualmenexist.) The moment he tells her? Yowza, it's explosive.
But let's talk about the mess that is the Jessica/Mark/Barnett/Amber/LC storyline. It's the type of reality dating show fuckery we know and love. Jessica is a messy ass white woman who lets her dog drink out of her wine glass and has a weird baby voice that makes you want to scratch your ears off. Mark is the 24-year-old who just wants to find love. Jessica is 10 years older than Mark, which she can never really get over.
Barnett is the reality dating show fuckboy you dream of. He goes by his last name for crying out loud. Barnett can't choose between Jessica, Amber, and LC until the very last minute. Amber has tunnel vision and won't stop until she gets Barnett. LC is a sweet woman who is very clearly too good for him. Jessica is a literal train wreck. There's a reason people are calling her "Messica." Girlie is messy. This mess is where Love Is Blind really shines. The whole time you're watching, waiting for the train to derail. And it does, in truly epic fashion.
Interestingly, there are other couples who did end up engaged at the end of the week of dating. But what happened to them? Rory Newbrough, who we see peripherally in the men's house spilled all the tea to Women's Health. Apparently Netflix didn't think more than maybe two couples would get engaged. So they didn't prepare for eight couples popping the question at the end of the experiment. They only budgeted for maybe five, so the three not interesting ones were on their own. Rory explains that he and his fiancee paid for their own vacation, and the relationship died there.
Love Is Blind is the best kind of reality dating experiment. It's outrageous, but you also find yourself rooting for some of the contestants. Most people can't understand how in the hell people can fall in love with each other sight unseen. Since the show began airing, several contestants revealed that the dates are usually way longer than we see. Sometimes they could be in a pod with their person for over 12 hours a day. When you're spending that much time talking, you move past the superficial stuff pretty quickly. Having nothing but time and your words gives you the space to really make a meaningful connection.
If you love reality dating shows, but also genuinely love people in love, watch Love Is Blind. It's currently streaming on Netflix.
This article was originally published on