If You Love A Good Mystery, These True Crime Podcasts Are For You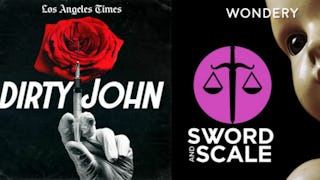 L.A. Times Dirty John/ Wondery Sword and Scale
I don't have a lot of free time. I'm a mother, with a career, and a family who depends on me, so I maximize every moment possible. That often means ordering groceries online while walking between meetings at work, or helping kids with homework while cooking dinner. I may miss a doctor's appointment from time to time, or forget to wash a favorite pair of pjs for my four-year-old, but for the most part, multitasking is my thing.
Because I'm always on the go with one thing or another, it can be hard to find time for myself. I love to read, but motherhood and work projects seem to limit my time to get lost in a good mystery. This may be why I've fallen madly in love with true crime podcasts. I know, it's a little dark, but it gives me my mystery fix, and I can listen in the car while commuting or via earbuds while doing laundry. For me, it's hands-free happiness.
So, let's talk about my genre of choice—true crime. I particularly enjoy true crime of the psychological variety, because who doesn't love a good mystery? True crime and mystery podcasts tell a story and make you think. I find myself considering motives, potential suspects, and theories of "what happened." Then there's the psychological component. What makes a criminal tick? What was their childhood like? Why did they make the choices the made, and what led them to act in such an egregious manner? As dark and twisted as it may be, it's all fascinating to me.
If you're not already hooked, but you're curious what all the fuss is about, here are a few of my favorites.
1. Serial
Hosted by Sarah Koenig, Serial tells one true story week by week. If you love some good ol' fashion investigative reporting, this is the podcast for you. I highly recommend season one, in which Sarah attempts to uncover who murdered Korean-American high school student Hae Min Lee.
2. Dirty John
Dirty John is reported and hosted by Christopher Goffard from the L.A. Times. He tells the story of a successful woman who falls for a man her family doesn't approved of. Their love story is a twisted one, riddled with lies, deception, and denial.
3. Criminal
Criminal is accurately described by its creators as stories of people who've done wrong, been wronged, or gotten caught somewhere in the middle.
4. Sword and Scale
Crime and justice often go hand-and-hand, and Sword and Scale gives you crime and justice from every angle. From 911 calls to interviews with victims or perpetrators, listeners get the whole story.
5. In the Dark
If you love investigative reporting In the Dark is for you. Season one investigates the case of Jacob Wetterling, a high-profile child abduction that occurred in October of 1989.
6. Casefile True Crime
With the tagline of "Fact is scarier than fiction," Casefile True Crime delivers on that promise week after week.
7. Serial Killers
Every Monday Serial Killers discusses, you guessed it, serial killers. It takes a psychological approach, exploring the minds of some of the most notorious serial killers, and giving listeners insight into what drove them to commit unforgivable crimes.
8. Up and Vanished
Up and Vanished is a podcast about missing persons. Season one investigated the disappearance of beauty queen and high school teacher, Tara Grinstead. The Georgia cold case was the largest file in the Georgia Bureau of investigation's history, with no arrests in 11 years.
Alright, that should be enough to get you started. Grab a coffee and some earbuds, and enjoy!
This article was originally published on