Why Love, Simon Is The Movie All Our Kids Need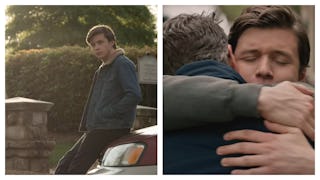 Fox 2000 Pictures Temple Hill Productions Distributed by 20th Century Fox
Dear Greg Berlanti,
I am writing to you, the director and creative force behind Love, Simon, to say thank you.
I took my sons — my 13-year-old and my openly gay almost 11-year-old — to a sneak preview. My younger son, Brendan, came to me last week because he had seen an advertisement for the movie. "We have to see it," he said. "There's finally a movie about gay kids!"
I, too, knew Love, Simon was coming to theaters. I read anything I could find about the movie, mostly to see if I could take Brendan to see it since the rating is PG-13. I decided he would be fine given the conversations we have had and most especially because of how he identifies. The most disturbing thing I read was that Jennifer Garner and Josh Duhamel were old enough to have teenage kids. But then again I sat next to a newly minted 13-year-old.
Our sold out audience was filled with teens and also older gay couples. The audience was vocal during the movie — awws, gasps, oh-nos and lots of laughs. The movie struck a chord. It wasn't just a groundbreaking movie with a gay teen at the center. The message clearly resonated with the audience. Being yourself and owning who you are is pretty in style right now thanks to an openly gay Olympic figure skater. Love, Simon is the classic high school romantic comedy for the 21st century.
I guess it really shouldn't surprise me that you made this movie happen. Two decades ago, when I was in college, I religiously watched a different group of high school kids on Dawson's Creek. You were at the helm when the first television kiss between two guys was aired. I know what it meant to my gay friends then just like I know what this movie means to my son now.
I realize my family lives in a bit of a bubble. Brendan was a princess for his school Halloween party at six and marched in his first Pride Parade at seven. In fourth grade, he dressed up as Audra McDonald for Black History Month and, in fifth grade, he drew a rainbow flag as the flag he identified with for his class open house project. When we talk about Brendan, my husband often says, "Stereotypes sometimes exist for a reason." Our theater kid discovered Liza Minnelli and Barbra Streisand while searching for his favorite musicals on YouTube. "Born This Way" is his anthem, he is unabashedly himself always. Of course, he would love this movie and representation is important.
But somewhere in middle America there are kids who know they are like Brendan, but are as scared as Simon. This movie is even more for them. I don't doubt some teen boy will take the girl he calls his girlfriend to see Love, Simon because she wants to see Nick Robinson on screen. I hope that boy will see himself in Simon and gain the strength and courage to live his truth.
Love, Simon is also for straight kids — the kids who may not realize the turmoil of their friends trying to figure themselves out. It is a reminder of how important being a friend is and the effects of bullying. Driving home from the movie, we talked about one of the most important things Simon says, "I'm supposed to be the one that decides when and how and who knows, and how I get to say it, that's supposed to be my thing!"
Thank you, Greg. Thanks for making the movie all our kids need to see right now. Thanks for giving families the chance to have important conversations — about bullying, about friendships, about honesty and about being authentic. And thanks for one of the most important lines a young gay kid can hear: "I'm just like you."
Love, Nicole