Things Every Woman Who Loves Tacos Needs In Her Life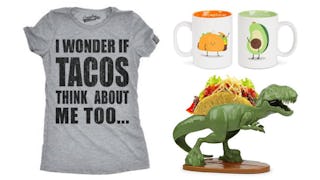 Image via Walmart
Anyone who loves delicious food probably loves tacos.
Tacos are as yummy as they are versatile. They can be eaten for any meal of the day: breakfast, second breakfast, brunch, lunch, evening snack, dinner, or late-night snack. You can get them soft or crispy, and fill them with whatever you want. They can be eaten over a tortilla for an extra taco. The combinations are endless.
Here are some great gifts for the taco lovers in your life:
This "I Wonder If Tacos Think About Me" Tee is a great gift for any woman who loves tacos. So, every woman.
This "Live Love Tacos" Wall Art is a funny alternative to "Live Laugh Love," and every taco fan will appreciate the sentiment.
What's not to love about this TACOsaurus Taco Holder? It's a DINOSAUR that HOLDS TWO TACOS at a time, so it's essentially the coolest invention of all time.
This "Weekend Forecast" Taco Mug captures the perfect combination for anyone who loves weekends and loves tacos.
This Taco Throw Blanket is 50″ x 60″ and is made of 100% fleece. It's the best thing ever to happen to winter, at least until taco delivery officially becomes a thing.
This Taco Purse is adorable and comes with a removable wrist strap. Now they'll have easy access to their money to buy, you guessed it, more tacos.
A "Fit'ness Taco In My Mouth" Tee is perfect for your friends who understand priorities. Tacos are greater than everything else.
These Taco Plates are genius. They're set up to hold a variety of Mexican food, including a place for tacos where they won't fall over or get soggy. And you can get a set of four for under $10.
This "I Wish I Was Full Of Tacos" Apron says "I wish I was full of tacos instead of emotions," which everyone can relate to, and it's perfect for the chef in your life.
This "My True Love Is Tacos" Wall Art is the perfect gift for anyone who believes in true love… in taco form.
This Taco Tea Towel is a cute decoration for any kitchen, and an important reminder that Taco Tuesday can be celebrated any day of the week.
These "Tacos Make Me Happy" Pajamas are a sleep set that lets everyone knows what makes us taco lovers happiest.
This "Let's Taco Bout It" Pillow is a cute decor item for any person who loves to talk about tacos.
This "You Complete Me" Taco Mug Set is perfect for any couple who loves tacos and avocados. I feel this one in my soul.
This Tacos Tote Bag says it all, lets everyone knows our plans for the foreseeable future, and is currently on sale for $14.95.
This "Straight Outta Tacos" Tee is a great gift for that friend who loves 90s rap as much as she loves tacos.
No matter what you get your friends, they're sure to appreciate the effort. Especially if it comes along with an invitation to get actual tacos. Because the real way to any taco lover's heart is through their stomach. (Just ask the miniature hot sauce I carry around in my purse.)
We are a participant in the Walmart.com Affiliate Program and may earn fees by linking to Walmart.com and affiliated sites.
This article was originally published on