If Loving Sarah McLachlan Makes Me Old, I Don't Want to Be Young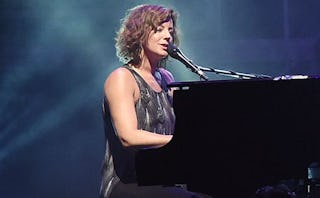 I tried, through my shock, to explain who Sarah McLachlan is.
"Oh, right," she nodded. "I think my best friend's dad was trying to sell some extra tickets he had to that show."
Shoot me.
Now.
Sarah McLachlan: the woman who wrote the soundtrack to my entire angst-ridden, confusing high school life. The woman who let me know I wasn't alone through the isolating, roller coaster years of college; the woman whose Christmas album remains my favorite; the woman who now writes love songs to her children that I dedicate to my kids.
Sarah McLachlan has been the ongoing playlist on the iPod of my life.
Sarah McLachlan is a stranger to my 18-year-old babysitter, painfully reminding me how old and dated I am.
I squared my shoulders, looked at my husband—who kindly agreed to come along with me to her show—and marched resolutely to the car.
"I am so not old," I thought. "I am wearing awesome new shoes that I got from… well, DSW. And a shirt I bought from….well, Belk…but whatever. I AM NOT OLD."
We arrived at the theater. Note that this was a theater, not a bar or a stand-up-and-elbow-for-a-spot concert space, but a theater with plush, red velvet seats and assigned seating. I looked around and felt, well, old.
All around me were middle-aged couples on a night out. The men all trailed their wives, dressed in jeans and easy collared shirts, avoiding eye contact. The women all raced excitedly, also in jeans but with various iterations of the black top.
There were older couples, too. I saw men in jean shorts, socks, and sandals, with unbroken baseball caps perched atop their heads. I saw women in the draped blouses Chico's excels at.
I wasn't the oldest! But, sadly, that made me feel even older.
What I didn't see was a single person under 30. That is, except for the 8-year-old girl who was there with her mother. This is what Sarah McLachlan is now? A concert little girls go to with their mothers?
Suddenly, I felt tired. I was out past my bedtime, exhausted from a day of chasing my children around, my feet aching from trying to walk in heels for the first time in two months, and I just wanted to go home. The safety of my sweatpants and my novel never make me feel old. They make me feel comfortable as I am.
Yet we squirmed our way, red wine in hand, to our seats. The lights went down and Sarah, without an opening act, simply stepped onto the stage.
The music started and, immediately, I wasn't old anymore.
As her voice floated to me, I floated away. I remembered what it felt like to be young. I remembered the pain of being pulled from my arts school, of dancing my life with passion into the old, dimly-lit racquetball court down the street while Sarah played on my CD player. I remembered cruising down I-85 post break-up, a break-up that was like ripping off a giant Band-Aid, crying out my window and singing along with Sarah as the wind whipped in and carried it all away.
That night, as Sarah weaved her way through her albums and through my years, I did more than simply remember it all. I was there again. I was that college girl, struggling to find a place in the social stratosphere, wrapping herself in a tiny college dormitory bed in hurt and pain. I was flying with joy and expectations for my future when that paper diploma smacked the palm of my left hand.
I was my youth.
As the evening wore on, the beautiful piano tunes reverberating off the back of the theater and pulsating to hit me in the shoulders, shaking into my heart, I cried.
I hugged my high school self and I whispered to her:
"Don't worry. I am looking at your life right now, and you would never believe the wild, wonderful journey you are about to have. If I told where you will go, you couldn't grasp it. Please, trust that it will work out. Now, sit back and enjoy the music."
The night, as all perfect nights do, ended far too quickly.
Stripped to the core, yet energized, I got into our car, the child seats staring at me from the back seat, and silently we went home to relieve our babysitter.
"How was the show?" she asked me.
"Amazing. You really should listen to her sometime."
Listen to Sarah's first three albums for yourself:
This article was originally published on