This District's Hybrid Model Should Serve As An Inspiration To Schools Everywhere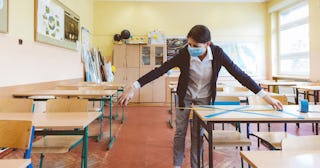 izusek/Getty
Pandemic school is basically a shitshow for everyone involved, but those of us with some amount of privilege can generally find a way to make it work.
Maybe we've able to work from home so that we can be there to give our kids meals and motivate them to stay on task. Maybe we've been able to hire help to get through this time. Maybe we've joined a pandemic schooling "pod." Perhaps we are lucky enough to be able to send our kids to a school district that has been able to safely welcome their students back to school.
Keep in mind that all of these things are more possible for folks who work in industries that allow for work-from-home options, or who have the income to hire outside help. Successful distance learning also requires devices such as laptops or tablets, along with good WiFi—all of which require some amount of financial privilege.
And let's face it: if you are sending your kids to a school with a safe COVID-19 plan, you are likely living in a school district with the money to implement said plan.
The truth is, low income children and children who live in poverty are the ones struggling the most in terms of school during this pandemic. These kids often have parents who work in blue collar industries where work from home options simply do not exist. They are children whose academic lives and prospects will suffer the most if they miss school. They don't have tutors or other safety nets to keep them afloat. They are also the families who don't readily have good quality internet access or computer/tablet access.
These are the families who need in-person school more than ever—and yet, they are the ones getting the worst deal when it comes to schooling during this pandemic.
For example, the NYC public schools—the biggest school system in the country, and home to a sizable group of low income families—is having a very difficult time bringing their kids safely back into school. There have been questions about proper ventilation in classrooms, and concerns about proper staffing. The school opening date has been pushed forward twice, and most students will begin classes virtually.
New York is in an area where COVID positivity rates are relatively low, and where it might make sense to send a portion of the population back into school buildings, especially the kids who are most in need of that service. Yet the NYC Department of Education hasn't been able to make that promise to its students.
According to a report from CRPE: Reinventing Public Education, NYC is not alone. Rural school districts are more likely to bring their kids back to in-person learning than urban and suburban districts, and schools in the highest poverty brackets are most likely to begin with remote learning as opposed to in-person learning.
However, as The New York Times reports, there are some outliers—and as one low-income school district in California proves, extra preparation goes a long way in terms of making in-person schooling a reality to the kids who need it most.
The Times recently highlighted the success story of a district in Cajon Valley, California, which spent last spring and summer preparing a hybrid model that allowed their kids to come back at least part time in school. So far, they've been successful, and are one of the few districts in California that have been able to bring their kids back safely.
"The truth is, distance learning isn't working for most families," the district's superintendent, David Miyashiro, told The Times. "Parenting, teaching and working do not make for manageable multitasking."
Most of Miyashiro's students receive free or reduced price lunch, and had lots of trouble getting much out of virtual learning last spring. But thanks to strong, dedicated preparation, the district has been able to make the hybrid model—which requires students to learn both in-person and online—work for all 27 of its schools.
How did they do that?
Well, it wasn't an overnight process. The district had been working to make digital education accessible to its students since before the pandemic began. Before COVID-19 was on anyone's radar.
As The Times explains, all students in the district have laptops—and this was an initiative that began seven years ago. Digital learning was something that had already been incorporated into their school days. Teachers, too, already had "extensive training" for "blending" classrooms. The Times reports that the teachers weren't just trained, but were well supported: over the past two years, they received a 6% raise.
Maybe most importantly, the families had Wi-Fi access. Many of us take this sort of thing for granted, but many low-income kids don't often have consistent Wi-Fi access, making virtual learning nearly impossible. But the Cajon Valley, California school district has ensured that 100% of students have Wi-Fi connections.
100 percent access. This is huge.
The district also spent the summer doing an in-person enrichment program for about a third of its students, working out the kinks, and making sure both teachers and staff were familiar with protocols.
This setup has enabled the kids to come back safely (hybrid models ensure that fewer kids are in the buildings at once), and it appears to be working. Although school is only three weeks in, no COVID infections have been reported so far.
This. Is. Amazing. It should inspire us all.
The most important part of all of this though, is that these struggling families are being offered an equitable solution to school during this incredibly difficult time. This is a gesture of kindness, goodwill and inclusivity that every student (and their family) deserves.
"Knowing you have teachers and principals and a superintendent that care helped families in this pandemic," Jemima Dutra, a parent, told The Times, through tears. "They cared about us even though we weren't in front of them, and that meant a lot to me."
A school district like this should serve as a model to districts everywhere, not just during the pandemic, but always.
Yes, this pandemic is hard for us all, especially when it comes to keeping our kids happy, cared for, and educated. But we need to remember that lower income families and families in poverty are suffering the most here, and the focus should be on getting them the services they need first.