This Custodian-Turned-Teacher Is Inspiring A Whole School
by Cassandra Stone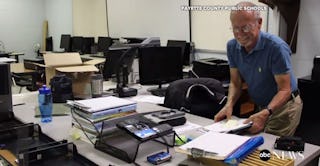 Image via ABC News
After 7 years as a custodian, he's now a full-time teacher at the same school
As parents, we strive to teach our kids they can be anything they want to be. That they can accomplish anything they set their mind to. No one exemplifies these life lessons better than Lowell Outland, a high school custodian turned full-time teacher.
Outland spent seven years working as a custodian at Tates Creek High School in Lexington, Kentucky. That is until this school year, when he walked into the school as a teacher earlier this week.
Outland wasn't able to finish high school in the 1970s, but he earned his GED while serving in the military. He eventually earned his associate's degree. He started working as a custodian at Tates Creek High School when he was laid off from an electronics company due to downsizing.
So what led to him wanting to change his career path? The students, he says.
"I got to know the kids and there are some of them that are absolutely wonderful," Outland told ABC News. "I enjoyed being around them. I felt like it was time for me to start contributing a little bit."
He took college classes during the mornings, and worked at the high school as a custodian at night. He earned his degree from Morehead State University. He's now teaching digital photography and graphic communications full-time at 59 years old.
"I think my past experience will give [students] something to think about," Outland said. "I'm showing them what they can do with their lives."
This is such a wonderful example to young people everywhere. Following your dreams can seem like such a daunting task, and you can always find a million reasons not to do something. There are always circumstances beyond our control in life, and it's up to us to manage them the best way we can.
For Mr. Outland, being close to retirement age wasn't reason enough to stop him. (Bless this man and his energy, seriously.)
The school's principal, Mr. Mills, didn't have to think twice about hiring Outland on as a teacher.
"I'm just happy that we're able to keep him here," Mills said to ABC News. "I just believe it's a great story for our kids and for everybody — that when it gets hard, you don't just give up."
It's so nice to read an inspiring story at the end of a truly terrible news week. Let's all raise a freshly-sharpened pencil to Lowell Outland, shall we?
This article was originally published on