Lower-Income Parents Are Having A Harder Time Getting Their Kids Vaxed
by Kristina Johnson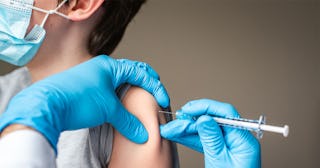 Cavan Images/Getty
Lower-income families are facing barriers to vaccine access for their kids
In the very first week the Pfizer Covid vaccine became available to kids between the ages of 5 and 11, almost a million of them began receiving doses and hundreds of thousands more are signed up for the coming days. But one group might be getting left behind. Two new surveys are showing that lower-income families face unique challenges when it comes to getting the vaccine to their kids.
While vaccine hesitancy and worries over potential side effects are the main concerns you might be hearing about from moms and dads who aren't rushing out to get the shots, for some families, the issue is more about time, money, and access. A Kaiser Family Foundation survey found that about half of lower-income parents (those whose household income was below $50,000 a year) said they worried about having to get a day a off from their jobs in order to get to a vaccine appointment for their child.
Around 45% expressed worries about the cost of the vaccine — which just goes to show how hard it can be to find accurate information about Covid. The vaccine is completely free, though people are often thrown off by being asked to provide health insurance info when they make an appointment. You don't need insurance get a shot for yourself or your child, and there is zero out of pocket cost for anyone, no matter what.
Around 48% of lower-income parents also said they worried about not being to get their child vaccinated somewhere they already know and trust. Another 38% said they weren't sure how they could even travel to a vaccine location. By and large, higher-income parents aren't worrying about either of those things.
That fact was back up a second survey conducted by Outbreaks Near Me, a group compromised of doctors from Boston Children's Hospital and Harvard Medical School. In their poll of more than 2,000 parents, you can basically see a straight line starting on the low-end of vaccine willingness (34% among low-income families) to the higher-end (47% among wealthier families).
"Unfortunately, the disparities that have been seen across the pandemic, especially around income, will persist even around vaccine access and younger kids," John Brownstein, the co-founder of Outbreaks Near Me, told CNN. To counteract that, some experts are pushing local governments to offer the vaccines in schools or offer home visits — anything to make it easier for moms and dads to say yes.
All families deserve equal access when it comes to the vaccine — and making sure every parent who wants a shot for their child can get one without worrying about their job, pay, or expenses should be priority number one.