Set Your DVR: A 'Best Of Dylan McKay' Marathon Is Happening This Weekend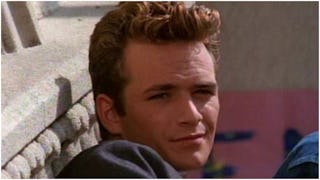 Image via IMDB/Fox
You can pay homage to Luke Perry with a "Best of Dylan McKay" marathon
Luke Perry died of a stroke this week and sweet, heartbreaking tributes from friends, family, and fans have been flooding the internet. If you want to pay your own respects to Perry, tune into Pop TV's upcoming "Best of Dylan McKay" marathon for some much-needed 90210 nostalgia.
Get a giant dose of everyone's favorite bad boy Dylan McKay by turning on Pop TV on March 8 or 10 to catch five back-to-back episodes of 90210. All you have to do is head to Pop TV's website, put in your zip code to find what channel Pop TV will be depending on your cable provider, and find out what time you should tune in.
The episodes will feature some of Dylan's most memorable moments, including "The Green Room" (Dylan meets Brandon for the first time), "Isn't It Romantic" (Dylan starts dating Brenda), and "Back in the High Life Again" (Dylan and Kelly tell Brenda about their summer fling).
Some people have already kicked off the marathon and are sharing their many, many emotions on Twitter. Also, they had their own takes on which classic Dylan McKay episodes should have made the cut.
Perry's 90210 family have penned a whole series of beautiful, gut-wrenching tributes to their friend and former co-star. Jason Priestley, who played Brandon Walsh, took to Instagram to share some loving words about the actor.
"Luke was much more than just a friend to me," Priestley wrote. "He was also my teammate, my teacher, my sounding board, my compass, my brother… Luke was truly one of a kind… he adored his family, was passionate about his work, and loved his wide collection of friends… every life he touched, he made better."
Shannen Doherty, who played Brenda Walsh, told PEOPLE: "I am in shock. Heartbroken. Devastated by the loss of my friend. I have so many memories with Luke that make me smile and that are forever imprinted on my heart and mind."
She also shared some old pictures of them together and it will make your heart ache very, very badly.
If you'd like to honor Perry's memory, his family asks that donations be made to Fight Colorectal Cancer and St. Jude's Children's Hospital.