Luke Perry's Daughter Speaks Out For The First Time Since Losing Her Dad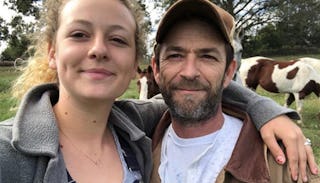 Image via Instagram/Sophie Perry
Sophie Perry wants everyone to know she's grateful for the outpouring of love being shown toward her dad
Luke Perry's daughter Sophie is speaking out for the first time about what it's felt like losing her dad, especially since it's all unfolding in the public eye. Her words are, predictably, utterly heartbreaking.
Sophie, Perry's 18-year-old daughter with his first wife, shared a photo of her with her arm around her dad on Instagram.
"A lot has happened in this past week for me," she writes in her caption. "Everything is happening so fast. I made it back from Malawi just in time to be here with my family, And in the past 24 hours I have received an overwhelming amount of love and support."
Perry died on Monday, less than a week after suffering a massive stroke. First famous for portraying everyone's favorite '90s teen heartthrob, Dylan McKay, on Beverly Hills 902010, Perry had been working on the popular show Riverdale at the time of his death.
Last week, it was reported he had suffered a stroke and was remaining at the hospital "under observation." Five days later, his representatives issued a statement saying the beloved actor had died. He was surrounded by family including his two kids, Sophie and her brother Jack, his fiance Wendy Madison Bauer, ex-wife Minnie Sharp, mother Ann Bennett, step-father Steve Bennett, brother Tom Perry, sister Amy Coder, and other friends and family.
Sophie was living in Malawi, Africa, at the time her father was hospitalized and came back as soon as possible to be with her dad.
"I cannot individually respond to the hundreds of beautiful and heartfelt messages, but I see them, and appreciate you all for sending positivity to my family and I," she continues in her Instagram post. "I'm not really sure what to say or do in this situation, it's something you aren't ever given a lesson on how to handle, especially when it's all happening in the public eye."
Losing a parent is one of the most painful experiences a human can endure in their lifetime, and to have to do it in the public eye has to add another difficult layer of grief to wade through. Though many fellow celebrities and co-workers are sharing their heartfelt stories about Perry and sending messages of love to his family.
Shannen Doherty starred as Perry's longtime love, Brenda, on 90201.
Ian Ziering also starred with Perry on the famous soap opera.
Actor Martin Cummins had been working with Perry on the set of Riverdale for the past few years.
While many famous people have come forth with heartwarming insights into the wonderful person Luke Perry was, Colin Hanks' story resonates so very deeply with those mourning.
Though many are feeling the pain of such a sudden, tragic loss of such a wonderful guy, it's Luke Perry's family that will be carrying the pain and grief the most.
His family issued a statement on the day of his passing: "The family appreciates the outpouring of support and prayers that have been extended to Luke from around the world, and respectfully request privacy in this time of great mourning."
His daughter wants everyone to know that while she might be grieving privately, she's thankful for all of the kindness shared about her dad.
"So bear with me and know that I am grateful for all the love. Just, being grateful quietly."
This article was originally published on