Luke Perry Dies At 52 After Suffering A Stroke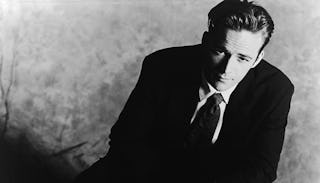 Image via Fox Television/Courtesy of Getty Images
Luke Perry has died and so has our childhood
It's not hyperbolic to say that certain celebrities and famous figures from childhood come to represent those years so vividly. Luke Perry was definitely one of those figures and it devastates us to report that he passed away this morning at age 52 after suffering a stroke last week.
The horribly sad update comes after a flurry of reports that Perry was brought to a hospital near his Sherman Oaks home after having a stroke on February 27. At the time, his reps confirmed that he was in the hospital "under observation," but after five days, he died.
According to his reps, who provided a statement to BuzzFeed News, Perry passed away surrounded by family including his two kids, Jack and Sophie, his fiance Wendy Madison Bauer, ex-wife Minnie Sharp, mother Ann Bennett, step-father Steve Bennett, brother Tom Perry, sister Amy Coder, and other friends and family.
As soon as the awful news broke last week, tributes and well wishes began to pour in from those who knew and loved the iconic Riverdale and Beverly Hills 90210 actor. Perhaps most heartbreaking was this snap shared by former co-star Shannen Doherty. Because he will always be the Dylan McKay to her Brenda Walsh.
"My friend. Holding you tight and giving you my strength. You got this," she wrote.
Doherty wasn't the only 90210 co-star sending her thoughts to Perry after he was hospitalized. Ian Ziering also posted loving words for the actor.
"No words can express what my heart feels hearing today's shocking news. Let us all say a prayer for his speedy recovery," says Ziering.
It was announced last week, the same day Perry fell ill, that 90210 would be getting the reboot treatment. Most of his former co-stars had already signed on to participate, but Perry hadn't. I am hoping very hard for a tribute to Dylan McKay in the first episode, because how could they not?
To say Perry was a huge presence in the lives of countless people who grew up in the 1990s is an understatement. Beverly Hills, 90210 was a show that defined an era — and a generation. His passing hurts like crazy not just for his family, but for those of us who grew up watching him.
This article was originally published on