LuLaRoe Just Changed Its Return Policy And Surprise! - Consultants Are Screwed
by Valerie Williams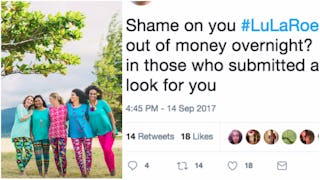 Image via LuLaRoe/Twitter
Their updated return policy has consultants that are trying to go out of business freaking out
Direct sales giant LuLaRoe, known for its "buttery" leggings and array of brightly patterned clothing, announced an update to its return policy for consultants, and it has a lot of LuLa sellers panicking.
In April 2017, the company announced it would allow LuLaRoe consultants going out of business (GOOB in LuLa-speak) to return any unsold merchandise for a 100 percent refund, and that LuLaRoe would even cover their shipping, a potentially huge cost considering how much inventory some sellers have left when they decide to end their business. The April policy was also put in place to discourage consultants from holding GOOB sales, which could put seriously discounted merchandise out into the market, making it harder for LuLa consultants still in business to sell goods at their retail price.
As of an announcement this past Wednesday, LuLaRoe says they'll only refund returned goods at 90 percent of their value, and will no longer cover return shipping costs, resulting in the loss of thousands of dollars for some consultants.
But that's not all.
A petition for the company to honor the 100 percent refund for any consultant who initiated the GOOB process prior to Wednesday's policy change lays out all the details of the "new" policy. In a statement from LuLaRoe obtained by Inc., the company says it's not a change to their written policy, but a return to the company's prior policy, with April's more relaxed rules being only a temporary waiver for sellers, as LuLaRoe states they've now addressed the issues that led to that waiver to begin with.
In addition to reverting to refunding 90 percent on returned items, the company will only accept returns on merchandise purchased directly from LuLaRoe, which excludes many items sold and traded between consultants, a common practice in the LuLa world. They will also only honor returns on merchandise purchased within the last year.
The updated policy states LuLaRoe will only accept returns on items that are "unworn, unwashed, folded with hang tags and in original packaging" and with "packaging and labeling that has not been altered or damaged." This rule is bound to be a sticking point for most consultants, considering the fact that they're encouraged to display merchandise in their "LuLa rooms" at home and during sales parties. Consultants also actively encourage customers to try items on, with hundreds of pieces out of their packages for perusal. That means they likely won't be able to return anything they had out of its original package for the purpose of selling it.
The final blow? LuLaRoe will no longer accept the return of seasonal merchandise or items that have been discontinued, a huge problem for those stuck with 200 pairs of Valentine's Day or Christmas "duds" they were unable to move during those holiday seasons. Keep in mind, LuLaRoe consultants can't order anything in specific patterns. They can request a certain number of one-size leggings or Sarahs or Irmas, but what they receive is total luck of the draw. So now, the company won't even reimburse them for those dozens of weird shamrock leggings they weren't able to sell.
When a consultant starts out their LuLa business, they have to purchase a package to "buy in" to the company. The cheapest package to get started is $4,812. The most expensive, $6,784. LuLaRoe sellers are then encouraged to restock their inventory monthly, putting back into their business whatever money they make from their sales. This leaves many consultants trying to end their business with tons of leftover items to unload, and this new policy will only make that task more difficult.
In the statement released to Inc., LuLaRoe says they "provide a fair and generous path to Independent Fashion Retailers who want to exit the business. We are simply reiterating a long-term written policy that each Retailer agrees to when he or she signs up."
H/T BuzzFeed
This article was originally published on