PSA: Hit Up A GOOB Sale If You're Looking For A Good LuLaRoe Deal
by Christine Burke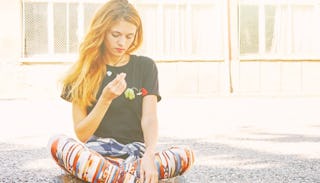 myshkovsky / iStock
Love them or hate them, LuLaRoe leggings have become a national obsession for women across the internet. While, yes, many of the patterns are questionably garish and LLR has gotten themselves in hot water a few times with their culturally tone-deaf choices, overall, women cannot get enough LuLaRoe.
And yes, I'm guilty of buying LLR on occasion too. It was for charity, okay?
It's no secret that I disagree with LLR's shady business practices. Complaints about shoddy fabrics ripping with the first or second wear, questionable issues involving tax fraud by the company's financial system, and the fact that consultants have to pay $6,000 for their introductory inventory all point to a company that only looks at their own bottom line.
LuLaRoe doesn't care about customers or the consultants who have gambled their life savings in hopes of providing for their families. A lawsuit was even filed on behalf of customers who have paid a fortune for leggings that don't live up to company claims. This isn't the fault of the consultants, of course, but it is the consultants who are left to clean up the mess.
For the last few years, LuLaRoe led us to believe that their consultants were making money, hand over fist, peddling (arguably) overpriced leggings in Facebook groups. Eager consultants added their entire friends list to specialized Facebook groups and bombarded the members with sales and excited utterances about LuLaRoe quality using far too many exclamation points. On the surface, LuLaRoe consultants were #blessed and #rollingintheLuLaDough.
But there are cracks in the veneer of the LuLaRoe brand as evidenced by the staggering number of "GOOB" sales that are popping up all over Facebook.
For those not in the LuLaKnow, "GOOB" stands for "Going Out of Business" and consultants organize these sales when they realize their dreams of going to Guatemala to visit the LuLaRoe factory on an all-expenses-paid trip are going down in flames. These consultants mark their inventory down to door-busting discounts in hopes of recouping some of the thousands of dollars they invested.
GOOB sales offer you the chance to indulge your LuLaRoe cravings with practically zero guilt. Cheaper prices, and more relaxed shipping polices, make the shopping experience much more enjoyable. Being able to find a pair of leggings in a fun print without feeling guilty that you are spending too much on an indulgence does not suck. And GOOB consultants are grateful to be able to unload their inventory from their dining rooms and recoup their losses. Sure, the inventory is limited and finding your size might be slightly more difficult, but there are new GOOB sales popping up on the daily.
Just search "LuLaRoe GOOB" on Facebook, if you're interested. You'll be able to find hundreds of options. Trust.
With their recent PR nightmares, it seems the LuLaRoe ship may be sinking, and of course, the consultants in steerage are the ones taking the biggest hit. The consultants who just started with the company and haven't been able to build a "downline" will be left with inventory they can't move.
So they end up hosting a GOOB sale, so that they can move on.
If you are going to buy LuLaRoe, buy from a consultant who is hosting a GOOB sale. No one is judging you because you are obsessed with unicorn patterns and that elusive pair of leggings that you haven't been able to find in the 200 groups you've joined. Seriously. You do you when it comes to LuLaRoe because I get it — I love that buttery feeling on my thighs too.
But that buttery feeling on your thighs should feel even better when you've helped throw a life vest to a mom who is floundering because she joined a company that failed to come through on their promises. Those leggings will feel softer because not only did you buy them at a deep discount, you also gave LuLaRoe the middle finger by buying from a woman trying to get out from under a company that doesn't care one iota if she sinks or swims.
So, go ahead. Feed your obsession for leggings emblazoned with giant kiwis and pizza wedges. Like I said, no judgment here. Snagging your favorite prints on markdown really is a win-win for everyone involved. Oh, and if anyone sees a pair of OS black leggings at a GOOB sale, let me LuLaKnow. #askingforafriend